Couples Compete in Double Header on Lake Lanier Georgia
March 5, 2023, Oakwood, GA. The American Couples Series North Georgia Division held a double header event on Lake Lanier out of Balus Creek Park located in Oakwood Georgia on March 4 and 5.
Big Bass at Clark's Hill for North GA Couples
Beautiful and warm early spring weather met the North GA Couples at Clark's Hill as we launched from the Mistletoe State Park Ramp on March 13, 2021. Lots of healthy fish were caught and brought to the scale while we all enjoyed a good time. It was wonderful seeing some people who haven't been able to fish with us in a while.
North GA Couples kicks off 2021 season with double header on Lake Lanier.
October 3 brought post frontal winds and bluebird skies, starting the day off with waning harvest moon. With some fall transition it made for some challenging fishing but beautiful weather to be on the lake. With 8 teams fishing there was only one limit brought to the scales but all others had at least one keeper to weigh, with exception of one team who had to leave lake early due to boat problems.
North GA Couples With a Tough Double Header
Back to back tournaments on May 16 & 17 proved challenging but fun for North GA Couples. Seven couples enjoyed a beautiful day on Lake Harding. Weather was perfect for being out on the lake, as evidenced by the abundance of pontoons and jet skis competing for water. Billy and Jerri Beam managed to pull out the most weight with a bag weighing 9.13. Jerri won the Ladies Big Bass pot with a 2.37 spotted bass. Second place went to Lane Wright and Deb Barker with a total of 7.43. Lane had Men's Big Bass with a nice 3.24 spot.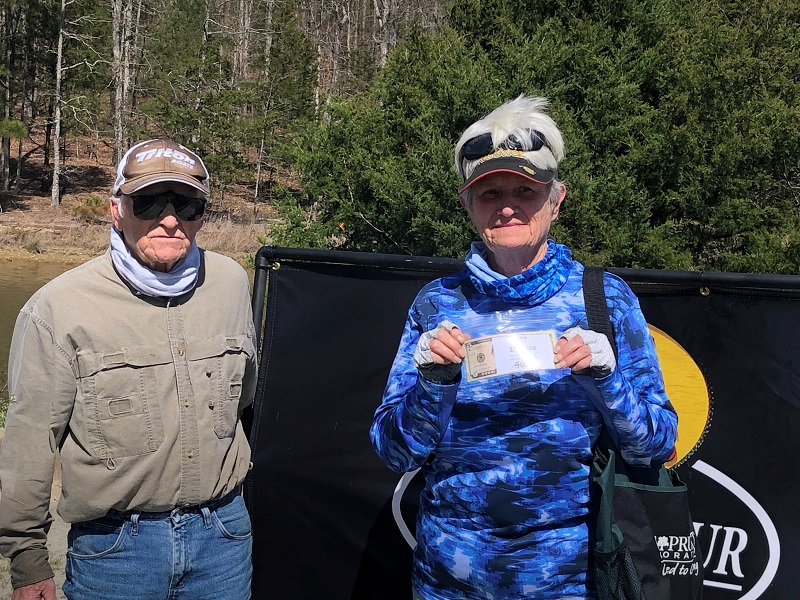 Lake Russell Served up 9 Limits for North GA Couples
Saturday, March 21, was a beautiful spring day with bluebird skies and a slight breeze—a day that brightened the spirits of some anglers on Lake Russell, going out of Beaverdam Marina. Every team brought in a limit of fish and scale weights were very close. First place was Ronald and Earline McBride with 11.93-lbs.
North Georgia Couples Hit Eufaula for a Double Header
North Georgia Couples Division 5 held two one-day tournaments on Saturday and Sunday, February 15-16, 2020. Changing weather and rising and falling muddy water were some of the conditions anglers had to deal with on Lake Eufaula. Saturday brought very low temperatures and sunny conditions for anglers. Fishing was tough for most of the nine couples, but a few teams overcame the conditions and caught some nice bags.
Darren Taylor and Amy Newsome Take the win on West Point
The North GA Bass Pro Shops Couples Division 5 held their second tournament on a chilly but beautiful December 7. Five couples took time from this busy time of year to join us on West Point Lake, where the spotted bass far outnumbered largemouth at the scale. First Place Winners with a total weight of 8.13-lbs went to Darren Taylor and Amy Newsome.
Ray Bohlman & Donna Barbee Win Chickamauga
Donna Barbee and Ray Bohlman of Soddy Daisey, Tennessee won the first event of the ABA Couples D5, held on February 18th on Chickamauga. Donna and Ray took first with a total weight of 19.84 pounds and Men's Big Fish weighing 6.50 pounds.
Worsham and Rutler Win on Chickamauga
Saturday was an amazing day to fish. The team of Greg Worsham and Kaitlin Rutler placed first out of 17 teams in the April 23rd American Couples Series tournament on Chickamauga.
Top Finishers
1st Place - Greg Worsham and Katilin Rutter - 26.26 pounds Five Fish
2nd Place - David and Pat Dennis - 16.08 Five Fish
3rd Place - Seth Davis and Brittney Pelfrey - 15.11 Five Fish
Lance Nunley & Shannan Swafford win on Chickamauga Lake
03/28/2015
Athens, Al. Lance Nunley and Shannan Swafford won the American Bass Anglers - event on Lake Chickamauga out of Chester Frost Park with 5 fish weighing 19.72 lbs..
Lance Nunley and Shannan Swafford weighed in the only 5 fish limit of the day which total 19.72 lbs. and included the the womens big fish of the tournament , a nice 4.35 lb. largemouth. Lance and Shannan reported catching most of their fish on rattle baits on the breaks. Jerry Last and Brittant Scott took 2nd place honors with 4 fish weighing 13.52 lbs. Ray Bohlman and Donna Barbee finished a close 3rd with 4 fish weighing 13.19 lbs. which included the men's big fish of the day, a 7.14 lb. largemouth.