Team Blalock Wins South Carolina Division Finale
ELBERTON, Ga. – Mike and Deanna Blalock won the South Carolina Division 11 season finale of the American Bass Anglers American Couples Series, Presented by Caymas Boats, held May 21, 2022, on Lake Russell on the South Carolina-Georgia line.
Ben & Ashley Sutton Finish On Top At Lake Greenwood
February 26, 2022, Greenwood, SC. Ben and Ashley Sutton won the American Couples Series Division 11 tournament on Lake Greenwood with 5 bass weighing 13.26 pounds. They earned $750 for the win and Ashley won an additional $100 for Ladies Big Bass.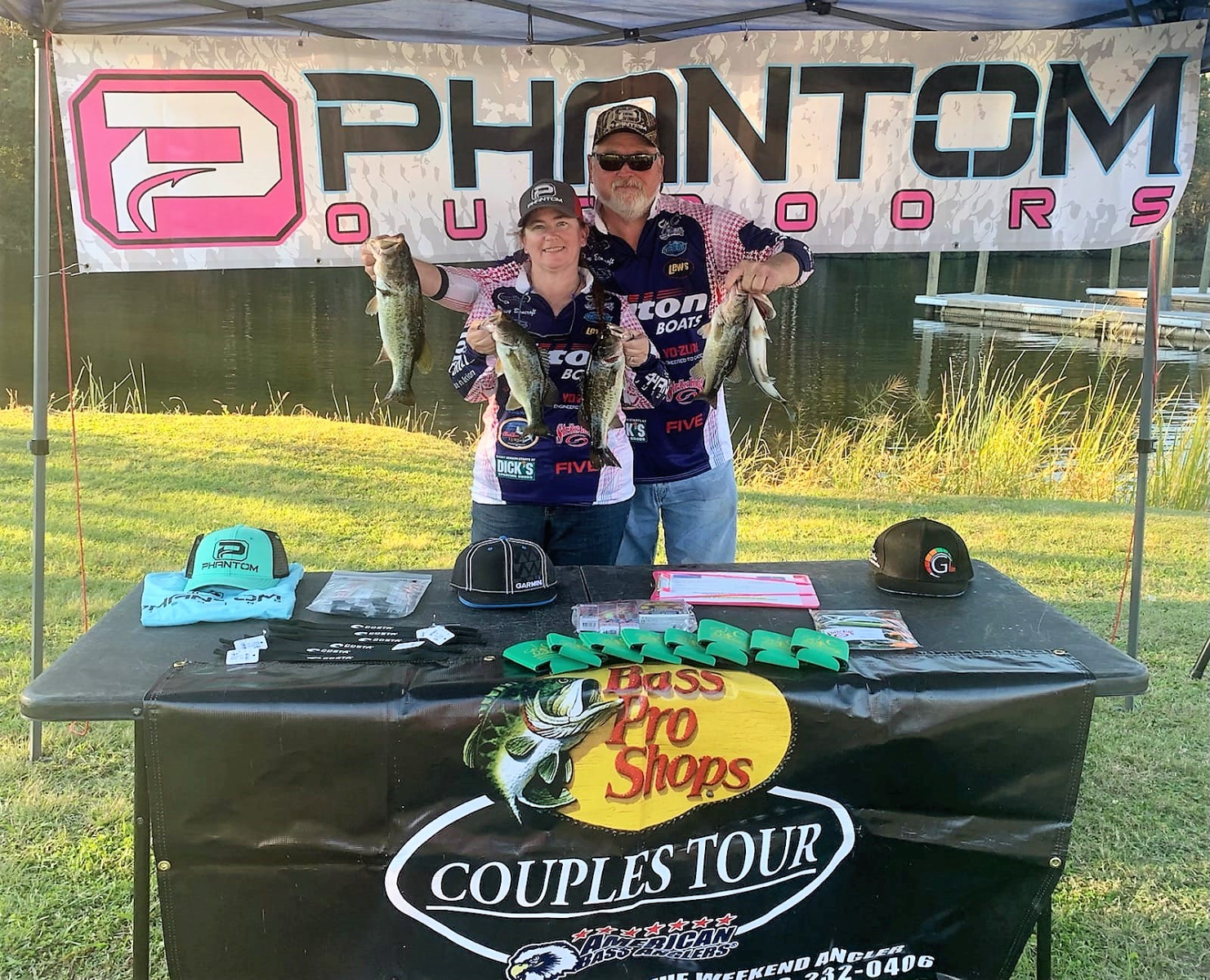 Tom and Missy take the win and the GLine Battery $100 Bounty on Cooper River
We couldn't have asked for a more beautiful day on the Cooper River with mild temperatures and sunny skies! We had eight teams come out to compete with every team bringing fish to the scales. Several teams commented on how clear the water was and how many big bass they watched swimming but couldn't get to bite. It seems that the most productive bite was on crank baits and worms.
Tom and Missy Bancroft took First Place with 5 largemouth bass weighing 8.15 lbs. earning $360. We caught our bass on crankbaits in the morning and shaky head worms in the afternoon.
Ben & Ashley Sutton Take the Win on Clark's Hill
The first event of the 2022 South Carolina ABA Couples season was held on Clark's Hill out of Hickory Knobb State Park. It was a beautiful day to be on the water. Ben & Ashley Sutton came out on top of the field of 22 teams with 5 bass weighing 13.01 lbs. Ben & Ashley were awarded $825 for their first-place finish.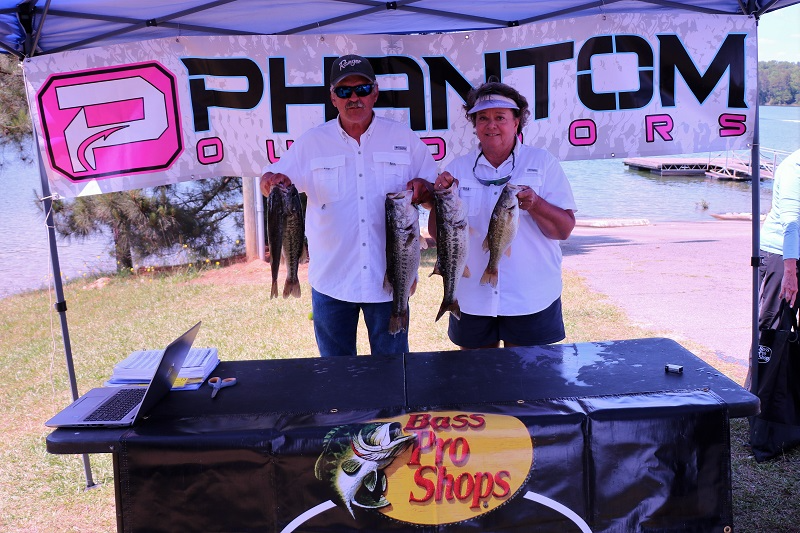 John and Susan Mills Win on Lake Russell
Richard B. Russell State Park on Lake Russell was the site of the final 2020-2021 tournament for the SC Couples trail on May 15, 2021 followed by the year-end banquet and awards presentation.
Danny & Virginia Christ win on Santee Cooper

Santee Cooper was the site of the 9th event for the SC Couples trail with only 1 more to go! Our next event will be on Lake Russell out of Richard B Russell State Park on May 15th with our year-end event to follow weigh-in. We had 14 teams compete May 1st on Santee Cooper including the visiting team of Danny & Virginia Christ from Lake Eufaula.
Bo and Jessica Win on Keowee

South Carolina Couples' 6th event of the 2021 Season was held on beautiful Lake Keowee out of South Cove Marina on March 20th. Leaving 4 more events to go before our National Championship on Lake Eufaula.
Cothrans Win on Hartwell
Lake Hartwell served up 9 limits and a little snow for the South Carolina Couples event on March 6, 2021. Twenty-two teams braved the elements to bring 71 bass to the scales weighing 140.20 pounds.
Donald & Robin Poteat Take the win on Lake Murray
Don & Robin Poteat took first place with a winning limit of five fish weighing 17.87 lbs. Don is a returning angler after many years away. And this was Robin Poteat's very first tournament. What a way to get started! Welcome back Don! It's was great seeing you again and meeting Robin.
Joe Anders & Shianne Parker Take the win on Lake Keowee
It was a beautiful day to be on the water and recharge our batteries with nature and good friends. The day started out a little differently on Lake Keowee with everyone concerned about how the Coronavirus is going to affect their loved one, jobs and financial health. Getting on the water is one of the best ways to get-away and forget your worries for a few hours. That is just what 25 couples did on Lake Keowee this weekend. Of course, it wasn't business as usual. We all took time to catch-up with friends we hadn't seen in a while and still keep our distance from each other. The field caught and released a total of 117 bass weighing in at 246.44 lbs. Thanks again to our couples for the great fish care allowing for the 100% release rate.
John & Donna Branstetter Take the Win on Lake Greenwood
We had another chilly start for the South Carolina's Lake Greenwood tournament on March 7, 2020. But that didn't hold back the 19 couples or the bass from participating. Even with the muddy water and chilly conditions our couples brought 63 bass to the scales weighing a total of 134.14 lbs. Thanks go out to our couples for their great fish care providing for another 100% release rate. John & Donna Branstetter took the win with a 5 fish limit weighing in at 14.86 lbs. Donna also took Ladies Big Bass with a 3.96 lb. largemouth.
John and Susan Mills come out on top on Lake Hartwell
Big Water Marina and Campground hosted the South Carolina Couples tournament on Lake Hartwell in a big way. Approximately ten days prior to our tournament, BWM felt the wrath of Mother Nature with damage from high water and 12 hours of 40 mph winds and rain. Their fuel dock and courtesy dock both received substantial damage. The courtesy dock had to be removed, repaired and reinstalled prior to our blast off. We'd like to thank Darlene and the guys at BWM for their commitment to ensuring the facilities were ready for our event. Not only did they make the necessary repairs in time for our event, but they also took excellent care of our anglers. They had coffee, propane heaters, and golf carts for our use and even provided pizza at weigh in. We couldn't have asked for a better host.
Barry & Romaine Descaro win on Savannah River despite Tough Conditions
We all expected Floodwaters on the Savannah River to make for a tough bite. Therefore, we were not surprised that only 3 of the 7 couples brought fish to the scales. Barry & Romaine worked hard to bring 3 fish that weighed in at 4.90 lbs. to win $315 for 1st Place. Barry anchored their winning bag with men's big fish at 1.93 lbs.
South Carolina Couple's Division Cancels 11/16 Tournament
For the safety of all our anglers, the South Carolina Couple's Divison 11 event on Lake Murray scheduled for November 16th has been canceled due to the predicted weather.
For more information on this Division, event or any future event please contact Tom Bancroft at (843)697-6232.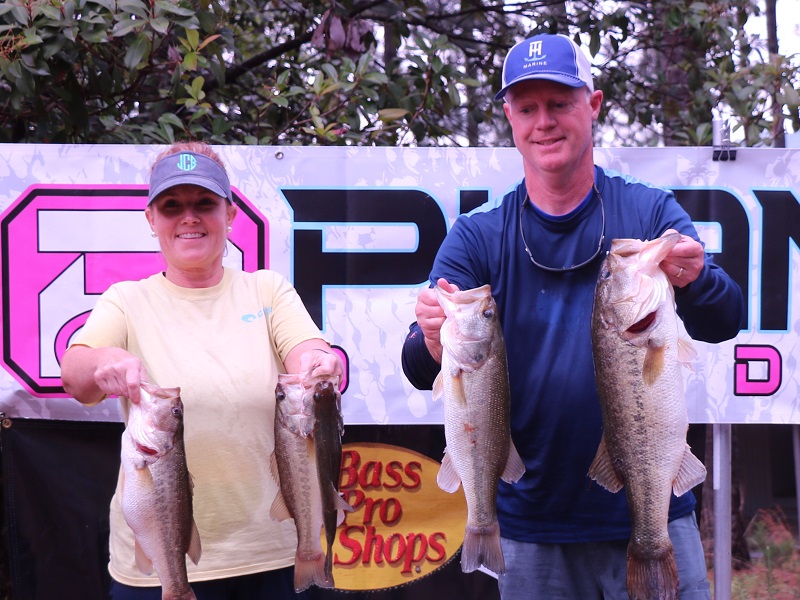 Jim & Julie Collins win the final SC Couples Tournament of the 2019 Season on Clark's Hill
Overcast skies and intermittent showers did not discourage the twenty-one teams that competed in the final tournament of the South Carolina Couples trail held June 8, 2019 on Clark's Hill. The cloud cover and shower kept the temperature bearable for this time of year. Most of the fish brought to the scales were caught on top water baits or Carolina rigs.