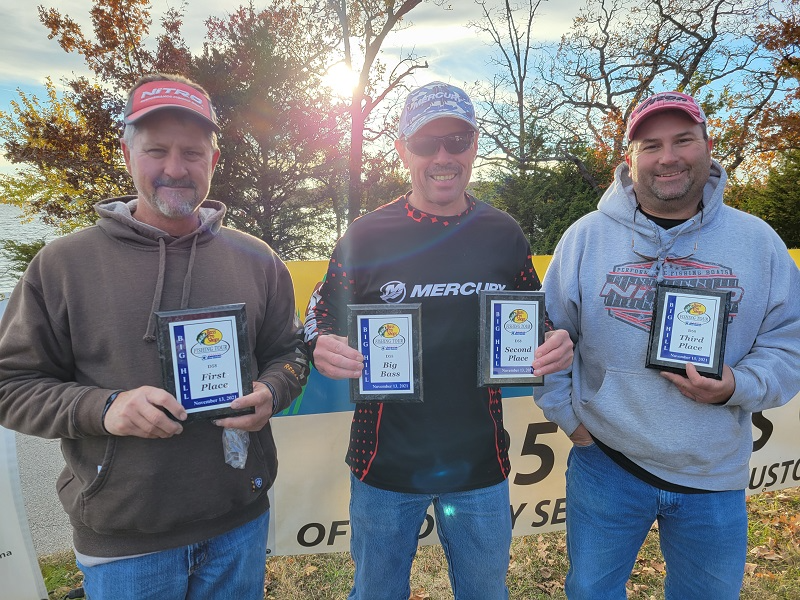 Tight Race for Butcher and Killion
Cold 29 degree start for ABA D58 2022 season opener at Big Hill Lake November 13, 2021 turned into sunny skies with temperature topping out at 53. Mike Butcher and Max Killion fought it out with Butcher taking the win-12.25 lbs and Killion right behind-12.24 lbs. Eric Craft took 3rd-11.78 lbs and Mark Moody was 4th-1.54. John Vanderpool was a close 5th with 11.40 lbs. Killion's 5.33 lb largemouth took Big Bass; Moody weighed in a 4.37 lb bass for 2nd BB.
D58 Hosts McConnell AFB
Joseph Yocum fished with Loren Graves and won Airman 1st place and Big Bass. He had 11.38 lbs anchored with the big one that went 4.5 lbs. John Vanderpool guided Matthew LeBrun to 2nd place with 8.13 lbs; 3rd place went to Jacob Dalzell who fished with Kirk Kelly and had 6.88 lbs. Pictures are posted at www.centralmidwestbass.com.
Big Hill Turned On For Brett Rinehart
Following a 30 minute lightning show, AFT Division 58 anglers were able to launch from Timberhill Boat Ramp on Big Hill Lake August 21, 2021. Big Hill proved its status as a "trophy fish lake" as 20 bass over 18" were accounted for; 16 of the 20 anglers had a 5-fish limit.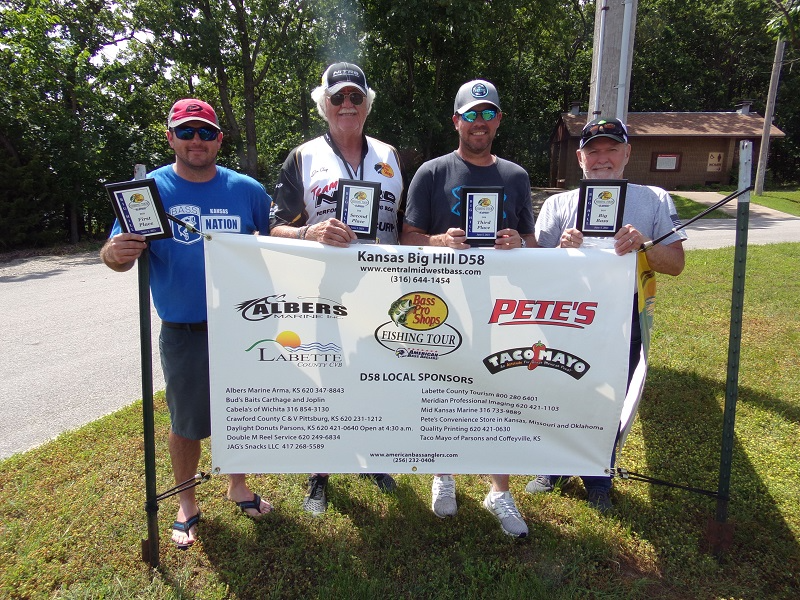 Kiister Wins on Big Hill

American Bass Anglers held a qualifying tournament on Big Hill Lake June 5, 2021. Recent rains have kept the water level up, keeping the bass in the grass. Soft plastic was the bait of choice. Kyle Kiisster brought in the heaviest bag, weighing 14.85 lbs, anchored by 2nd Big Bass, a 5.02 lb largemouth. Cherryvale angler, Jim Clay was 2nd with 12.85 lbs followed closely by Rickey Walker with 12.75 lbs. Big Bass went to Loren Graves of Independence, KS. His bass weighed 5.08 lbs.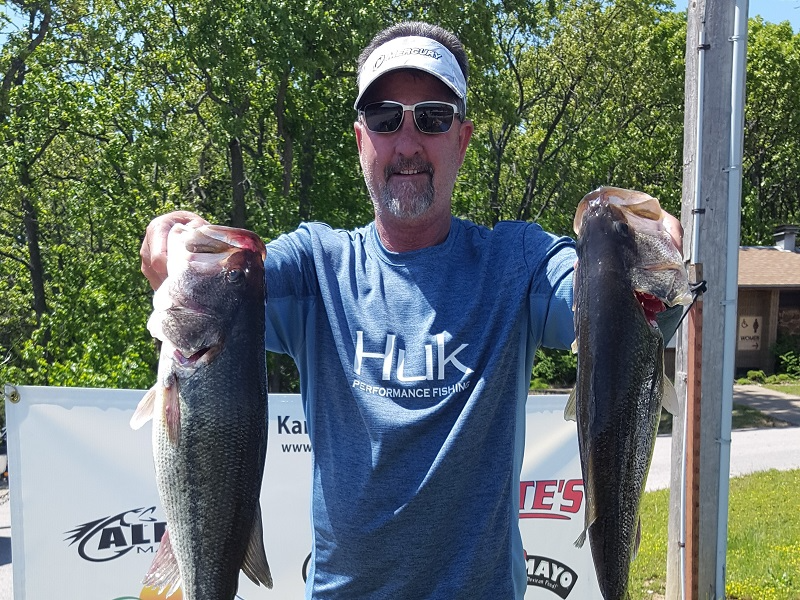 Mike Butcher Wins On Big Hill
The wind was blowing and the bass were biting; Big Hill Lake turned on! All anglers in the American Bass Anglers tournament held May 8, 2021 on Big Hill Lake brought fish to the scales. Mike Burcher brought in the heaviest bag, weighing 19.28 lbs. He had 2nd Bid Bass, a 5.11 lb largemouth
Doug Sims Wins ABA At Big Hill

With air temps in mid 40's and water temps low to mid 50-s, nineteen anglers launched out of Mound Valley Ramp on Big Hill Lake April 3, 2021 at 7:30 a.m. There was a light breeze which would later change to 20 mph winds causing white caps on the main lake. Air temps rose to low 70's.
Mark Moody Takes the win on Big HIll
It was a chilly start for the American Bass Anglers first 2021 Division 58 tournament. Nineteen anglers launched out of Mound Valley Ramp on Big Hill Lake at 7:30 a.m. Air temperature was in the low 30's at launch time and warmed to almost 60˚ by 4:00 p.m. weigh-in time.. Water temperature ranged from 48-59˚. There was a southerly wind and lots of sunshine.
New Schedule and Directors for Kansas Division 58
Athens, AL January 22, 2020. Today American Bass Anglers announce new directors for American Fishing Tour Division 58 located in southeastern Kansas. Becky Minor and Mark Moody. Becky Minor has been running events in Kansas for over 20 years.
The division will center around Big Hill Lake which is one of the interesting lakes in Kansas. Located in Labette County about 5 miles east of Cherryvale, Kansas, Big Hill is known as one of the cleanest and clearest lakes in Kansas. It has a max depth of 60 and holds a good population of both Large and quality Smallmouth bass.
The first event of the season for Division 58 is
Big Fish Highlight of Tournament

When the stars align, great things happen. The week before the Ram American Fishing Tour Tournament on February 20th at Bone Creek Lake the weather was perfect. An unusual warming trend sent temperatures into the 70's raising the water temperature five degrees. The fish and fishermen were both feeling good and the results showed it. Scott Tassi of Arma, KS brought a five fish limit to the scales weighing 20.77 pounds. Anchored with a big fish of 5.36 pounds, Scott was sure his lunker would win big fish of the day.