David Wright Claims Second Qualifying Victory
5/8/2021 – Boydton, VA. David Wright is setting the bar high for anglers in American Bass Angler's American Fishing Tour. With just his first three events under his belt he has now collected two first place finishes and a second place. Obviously David will be an odds on favorite for Virginia Division 13 angler of the year and someone to keep an eye on come the American Fishing Tour national championship this October at Kerr Lake.
Wright Wins on Kerr Lake
4/10/21 – Boydton, VA. Fifty anglers got together to target largemouth bass on Kerr Lake in a qualifying event for the American Fishing Tour Virginia division. On what was a picture-perfect day weather-wise, 36 of those anglers caught a limit of bass.
At weigh-in time, David Wright of Lexington, NC, finished atop the leader board with
Tyler Trent wins Virginia season opener

On a rainy day that would turn the fish off and make one think seriously about going home early, Tyler Trent put together a winning stringer of 15.25 pounds to claim the win in the Virginia division season opener on Kerr Lake.
Randy Ruffins Wins D13 Two-day on the Chickahominy
22 anglers got together in Williamsburg, Va for the division 13 championship. Randy Ruffin set the bar high by posting a very nice day 1 total of 16.16 pounds including day 1 big bass at 5.14 pounds. Randy was fishing plastics in pad beds on the main channel of the Chickahominy River. Despite only bringing in four fish on day two, his tournament total of 23.43 pounds proved good enough to secure the win and collect $1223 in winnings.
Chickahominy River Tournament Moved to Sunday 8/30
James City County, VA. The Division 13 of the Bass Pro Shops Fishing Tour Chickahominy River tournament scheduled for Saturday 8/29 has been moved to Sunday 8/30. The event change is due to the expected high winds and rainfall from the remnants of Tropical Storm Laura.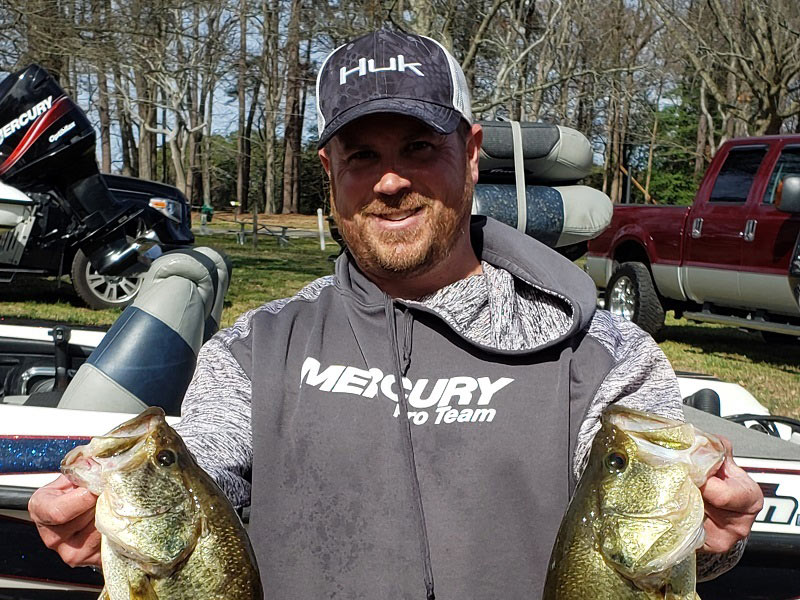 Clay Lewis wins on the Chickahominy River
14 March 2020 - 37 anglers gathered at the Chickahominy River for what turned out to be a mild spring day. Despite cold water temperatures, Clay Lewis of Sandston, Virginia was able to put together a formidable limit of bass that weighed in at 19.61 pounds anchored by big fish of the event at 5.64 pounds. For the win Clay not only earned the 200 points for first place but added $755 first place money to his fishing funds. The big bass also earned him an added $175.
Event Dates Changed for Division 13
February 6, 2020, Richmond VA. Gary Conner the tournament director for the Bass Pro Shops Fishing Tour is changing two tournament dates for Division 13. The event dates are being changed due to Army Corp of Engineers permits.
The scheduled event on Kerr Lake for May 23, 2020 has been moved to May 9, 2020 and the Chickahominy that was schedule on May 9, 2020 has been rescheduled for May 23, 2020. So the same previously scheduled dates are the same however the lakes have been flipped. Kerr Lake on May 9, 2020 and Chickahominy River on May 23, 2020.
Gary Conner Catches Fish of a Lifetime to win on the Chickahominy River
Nov 2, 2019, Williamsburg, Va. – Gary Conner of Williamsburg, VA won the Bass Pro Shops Fishing Tour Virginia division tournament presented by American Bass Anglers. Running out of Chickahominy Riverfront Park, Gary brought back a five-fish limit that tipped the scales at 20.55 pounds anchored by an 8.42-pound kicker. For the victory, Gary took home a check for $660 and an additional $135 in big fish money.
Virginia Division Cancels AFT 2019 Season Opener
Due to several factors associated with Hurricane Michael, Virginia director Gary Conner has canceled the Kerr Lake event scheduled for 13 October. Kerr Lake is still 2 feet above normal pool because of Hurricane Floyd, and the immediate area around the lake will receive 4 to 7 inches of rain on Thursday and residual additional amounts Friday morning. Coastal and river flooding is expected as well as possible widespread power outages as the storm passes through as a tropical storm. This event will not be made up, and entries already received for this event will be placed in hold status. Registered members need to contact member services at 256-232-0406 to apply their entry fee to a later event.
Richard Bates Claims the D13 Championship Victory
Richard Bates of Yorktown, Virginia takes the win on the Chickahominy River for AFT D13 on September 8th and 9th, 2018. By winning the Virginia Division Championship, Richard Bates became the division Angler of the Year. This was his third victory for the season. On day 1 Richard caught the biggest stringer of the tournament with five-fish that went 14.58 pounds. He went into the second day with a one- and one-half pound lead over the eventual second place angler James Funk who netted exactly 13 pounds Saturday. On Sunday Richard caught a second limit of bass that went 9.95 pounds and sealed a margin of victory of 1 3/4 pounds and won him the $1000 first place prize.
Choosakul wins on Kerr Lake
Kay "KC" Choosakul came out on top at Kerr Lake Saturday 18 August, with the winning stringer of 11.91 pounds. "It was cloudy and windy for the most part of the day, so I went to the backs of creeks that had wind blowing into them and fished laydown wood with a spinnerbait," said Choosakul. KC took home $543 for the win today. In second with 11.12 was Randy Ruffin. Randy had the big fish of the event with a very nice 6.18 pound largemouth. Rounding out the top three for this event was John Gillis at 8.62 pounds.
Mike Sims Takes the win on Kerr Reservoir
It was a good day of fishing today on Kerr Lake, despite the rains. Most people came off the water a bit early due to a thunderstorm with lightning. That said, 22 anglers donned rain suits and competed in this AFT division 13 event at Rudds Creek. 15 of the 22 brought in 5 fish limits. Most of the fish came on plastics today, with reports from the fishermen that the fish hit just about any bait that hit the water. Unfortunately, most of the fish were small. Fishing predominately plastics - worms and brush hogs - Mike Sims of Suffolk Virginia captured the win with five nice fish that tipped the scales at 13.68 pounds. This was Mike's last event with the Virginia division as he is about to make the move to Mississippi. For the win, Mike claimed 1st place monies of $559.
Richard Bates wins in a big way on the Chickahominy River
In what turned out to be a lopsided victory Richard Bates scored a four pound margin of victory on the Chickahominy River May 12. "This was a personal best for me on this river. Everything just fell into place today. All my fish came fishing Zoom plastics shallow. There had to be cover of some sort to find the fish. Every bite came when my bait was in contact with wood of some sort. The big fish followed the bait out from wood and struck a few feet after I had contacted the cover," said Bates.
Mark Inman wins VA AFT Event on Kerr Lake
Mark Inman of Greensboro, NC won the RAM American Fishing Tour presented by American Bass Anglers Virginia Division 13 tournament held October 21st, 2017 on Kerr Lake. Running out of Rudds Creek near Boydton, VA Mark brought a five-fish limit to the scales that locked in at 11.30 pounds. He anchored his catch with a 3.52 pound kicker, which also took Big Fish of the tournament. Mark took home $451 for his victory.
Michael Simms wins on the Chickahominy River
Michael Sims of Suffolk, VA won the RAM American Fishing Tour, presented by American Bass Anglers Virginia Division 13 season opener held September 30th, 2017 on the Chickahominy River. Running out of the Riverfront Park in Williamsburg