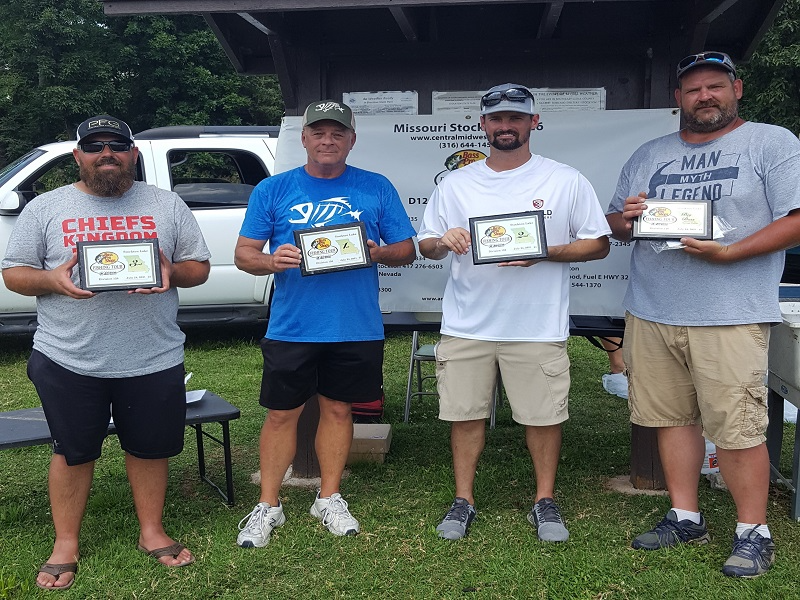 Scott Miles Wins Stockton ABA Tournament
The fishing was slow on Stockton Lake for American Bass Anglers Division 126 Saturday July 24, 2021. Only two limits came to the scales. Scott Miles was one of those limits; his catch weighed 11.74 lbs. giving him 1st place and $500.
Tony French Wins On Stockton
Division 126 American Bass Anglers had to endure several hours of rain Saturday, June 26 on Stockton Lake. In spite of the adverse weather conditions, most of them were able to weigh-in 5-fish limits. Topping the leader board was Ft. Scott angler, Tony French with a total weight of 12.83 lbs.
Luke Routh Wins on Stockton Lake


The bite got tough on Stockton Lake May 23, 2021 for 25 American Bass Anglers. Luke Routh topped the leader board with 12.70 lbs and won $620 for his efforts. Scott Tassi took 2nd with 12.01 lbs; 3rd went to Matt Garrett with 11.90 lbs. Weights were close with the top five ranging from 12.70 to 11.71. Big Bass was won by Jeff Gilbert with a 3.74 lb largemouth; 2nd BB was 3.52 lb caught by Mike butcher. Most of the fish were found in the bushes flipping soft plastic. Spinnerbaits and jigs were also a favorite bait for the anglers.
Jeff Gilberts Takes the win on Stockton Lake
With the lake water level still a little over three feet high, flipping was the name of game for American Bass Anglers April 24, 2021 on Stockton Lake The biggest weights were reported to have been caught by flipping the still flooded bushes. Catches were reported in all areas of the lake including Little Sac, mid-lake, Son's Creek and Big Sac. Eleven 5-fish limits were weighed.
Craft Wins Stockton
Erie, KS angler, Eric Craft topped the leaderboard on December 12, 2020, on Stockton Lake. Craft's weight went 13.76 lbs. on the scales. Eric is a previous American Bass Anglers Angler of the Year.
Fornelli Wins on Stockton
Athens, AL December 3, 2020. Mound City, KS angler Lucas Fornelli topped the leaderboard on November 22, 2020, as 24 anglers faced cool, cloudy weather to fish the Bass Pro Shops Fishing Tour Division 126 tournament on Stockton Lake. Fornelli reported catching most of his 16.61 lb bag of fish with a jig, casting into shallow water. He took Big Bass honors with a 4.98 lb bass and won $165 plus a $25 gift card from Heritage Tractor.
Jim Banks Wins the 2021 D126 Season Opener
Fish were biting October 31, 2020 as American Bass Anglers Division 126 opened their 2021 Season with a Halloween tournament on Stockton Lake, MO. Earlier in the week, the weather had turned cold, freezing cold, but tournament day was much warmer and sunny with a brisk SSE wind. Eight of the 21 competitors brought a 5-fish limit to the scales.
Scott Tassi Takes the win on Stockton
Hot and not much wind didn't keep Division 126 ABA anglers from finding the fish Sunday, June 14, 2020. Twelve limits weighed in, the top two within ounces of each other. Scott Tassi won with 15.36 lbs followed by Austin Lowrey with 15.20 lbs. Both reported catching fish out of the bushes. Third place went to new member, Kelly White with 13.78 lbs. Big Bass was caught by Matt Roberts-5.16 lbs. Roberts won cash and the Heritage Tractor Big Bass $25 gift card.
Kevin Jackson Wins Leap-Year Day Tournament

Cool temperatures in the upper 20's greeted a group of American Bass Anglers Saturday, February 29, 2020 as they signed in for the first Stockton Lake D126 tournament held in 2020. Therewas no wind to speak of, and the forecast was for temperatures to rise into the 60's by the 3:30 weigh-in time. The weather improved, but the fishing turned out to be a challenge.
Stockton Bass Tournament A Slug-fest!
December 14, 2019, saw American Bass Anglers launching from Old State Park at 7:15 a.m. The air temperature was at the high for the day, about 40̊ with a hard-northwest wind pushing rollers into the ramp. The air temperature fell during the day and the wind slowed down. It was a brutal day weather-wise, but the fish were biting
Roberts Takes the win on Stockton
Stockton Lake was "hot" for the 25 American Bass Anglers who launched from Old State Park ramp at 7:15 a.m. in 32-degree air temperature and a light NW wind. Weigh-in found the top four competitors very close. Matthew Roberts had 17.21-lbs anchored by Big Bass of the tournament, a 6.4-lb largemouth. For the win, Roberts took home $815.
Scott Tassi Takes the win on Stockton
American Bass Anglers Division 126 held their 2020 season opener on Stockton Lake September 21, 2019. Lots and lots of fish were weighed in. Nineteen of the 26 participants weighed in a 5-fish limit. First place went to Kansas angler, Scott Tassi with 16.38-lbs.
Tassi Wins Big At D126 Championship
You could say the fish were biting this week-end on Stockton Lake! Division 126 had their final 2019 season tournament which was the 2-dayD126 Championship. All 23 anglers weighed fish on day 1. Lucas Fornelli was leading with 18.51 anchored with 6.28 big bass. Not to be outdone, Scott Tassi caught a 7.58 big bass on day 2 and 22.37 for the day. Tassi's 2-day total was 38.23 giving him the win.

Miles Wins on Stockton Lake
Twenty American Bass Anglers met at Stockton Lake RB Cove Ramp Saturday June 15, 2019. A storm blew through bringing rain as well as some thunder and lightning. The storm did not last long enough to delay fishing time as anglers oozed off at about 6:00 a.m. following a safety briefing and partner draw. It continued to rain a short time, but most of the day was overcast. With the water level being 18' high, most of the fishing was done in flooded trees, bushes and picnic tables.
Craft Wins on Stockton Lake
Saturday's severe thunderstorm warning for Stockton Lake prompted American Bass Anglers three o'clock weigh-in to move quickly. Ten anglers brought 5-fish limits to the scales. Topping the leaderboard was Eric Craft with 12.77 lbs. Second and Big Fish place went to Lucas Fornelli with 11.12lbs anchored by the biggest bass of the tournament with a 4.51-lb kicker. Third place was Scott Tassi with 10.19.