Scott Tassi Takes the win on Stockton
American Bass Anglers Division 126 held their 2020 season opener on Stockton Lake September 21, 2019. Lots and lots of fish were weighed in. Nineteen of the 26 participants weighed in a 5-fish limit. First place went to Kansas angler, Scott Tassi with 16.38-lbs.
Tassi Wins Big At D126 Championship
You could say the fish were biting this week-end on Stockton Lake! Division 126 had their final 2019 season tournament which was the 2-dayD126 Championship. All 23 anglers weighed fish on day 1. Lucas Fornelli was leading with 18.51 anchored with 6.28 big bass. Not to be outdone, Scott Tassi caught a 7.58 big bass on day 2 and 22.37 for the day. Tassi's 2-day total was 38.23 giving him the win.

Miles Wins on Stockton Lake
Twenty American Bass Anglers met at Stockton Lake RB Cove Ramp Saturday June 15, 2019. A storm blew through bringing rain as well as some thunder and lightning. The storm did not last long enough to delay fishing time as anglers oozed off at about 6:00 a.m. following a safety briefing and partner draw. It continued to rain a short time, but most of the day was overcast. With the water level being 18' high, most of the fishing was done in flooded trees, bushes and picnic tables.
Craft Wins on Stockton Lake
Saturday's severe thunderstorm warning for Stockton Lake prompted American Bass Anglers three o'clock weigh-in to move quickly. Ten anglers brought 5-fish limits to the scales. Topping the leaderboard was Eric Craft with 12.77 lbs. Second and Big Fish place went to Lucas Fornelli with 11.12lbs anchored by the biggest bass of the tournament with a 4.51-lb kicker. Third place was Scott Tassi with 10.19.
Moody Wins On Stockton
American Bass Anglers Division 126 held a tournament on Stockton Lake April 13, 2019. After several warm days, a cold front moved into the area Friday night, dropping the water temperature several degrees. In spite of the cool weather and much cooler water temperatures, most of the ABA anglers had a 5-fish limit.
Scott Tassi Takes the win on Stockton Lake
Kansas angler, Scott Tassi, topped the leader board at the Bass Pro Shops Fishing Tour D126 tournament presented by American Bass Anglers held on Stockton Lake March 16, 2019. After weather forced cancellation of two previous tournaments, this was the first one for the spring/summer events. Anglers launched from Old State Park Sat 7:30 a.m. The air temperature was about 30˚ with 40˚ water temps. It was a bright and sunny day with temperatures rising into the upper 50's.
Justin Angel Takes Another Win On Stockton Lake
Stockton Lake was no match for Justin Angel September 29 when he fished American Bass Anglers Division 126 qualifying tournament and weighed in 19.44 lbs. His winning bag was anchored with Big Bass of the tournament, a 7.28-lb largemouth. He took home $1005 for his win.
Delk Wins Championship; Carter Take AOY

American Bass Anglers Division 126 held their 2-day Championship on Stockton Lake August 11-12. The weather cooperated, but the fish did not. One angler brought in a 5-fish limit both days; that was Justin Delk who won the tournament with a total weight of 22.64-lbs. Second place went to Jay Carter with 19.59-lbs which was enough to earn him D126 Angler of the Year. Scott Lawson took 3rd place with 14.44-lbs which included day-1 Big Bass weighing 3.57-lbs. Day-2 Big Bass went to Dale Boothe, who weighed in a 5.7-lb lunker.
Jay Carter Wins Stockton ABA Tournament
Only two 5-fish limits came to the scales in American Bass Anglers Stockton Lake D126 tournament Saturday, July 21. But the winner weighed only three fish for 11.46 lbs, which included Big Bass that topped the scales at 6.03 lbs. Before he took them out of the bag, he was asked if he had any big ones. His reply was, "One big, one medium and one small." And that was a good description of his catch. Second place went to Byron Maze with a 5-fish limit that weighed 9.67; 3rd place winner was Justin Delk with the other limit weighing 9.53 lbs.
Justin Delk Wins Stockton Lake Tournament
Only four 5-fish limits came to the scales in American Bass Anglers Stockton Lake D126 tournament Saturday, June 23. Justin Delk topped the leader board with 14.75-lbs anchored with a 4.26-lb big bass. That wasn't quite good enough for Big Bass honors as Jay Carter's big bass tipped the scales at 5.04-lbs giving him a total of 13.84-lbs and 2nd place in the tournament. Delk won $666 for 1st place; Carter's BB and 2nd place win earned him $684.
ABA COMES TO STOCKTON LAKE JUNE 23
Thirty plus of the best bass anglers in the Ozarks are expected to converge on Stockton Lake Saturday morning, June 23, 2018 for the American Bass Anglers AFT qualifying tournament. Launch site is Hartley Ramp (Old State Park). Registration can be done at the ramp starting at 4:30 a.m. Weigh-in will be shortly after 2:30 p.m. Anglers will fish from 5:30-2:30.
Carter Wins On Stockton
Athens, AL. – Jay Carter of Springfield, MO took the win on Stockton this past weekend with a limit weighing 14.17 and a big bass of 5.43 pounds. It was a cold morning in the mid-30s as 39 Missouri and Kansas anglers launch at the fourth of the American Bass Anglers Division 126 tournament. Jay won $1135 cash and points that will qualify him to fish the D126 2-day Championship.
The top ten places weights ranged from 10.09 lbs to 14.17 lbs with several places within ounces of each other. Nine anglers weighed in the 5-fish limit; a total of 27 competitors weighed in at least one fish. Jerk baits, crank baits and jigs were the preferred lures. Fish came from all parts of the lake, from the clear water down lake to more stained water in the upper parts of the lake.
Kleindle Squeaks Out Win On Stockton Lake
Jake Kleindle took the win at the American Bass Anglers Stockton tournament Saturday, November 4. He brought in a 5-fish limit that weighed 15.38lbs and won $640 plus $250 for his 6.17 lb Big Bass. A close second place went to Justin Delk with a 5-fish limit weighing 15.27lbs earning him $389; Delk also missed BB by a few ounces as his went 5.41lbs. Jay Carter took 3rd place with a 13.06lb limit anchored with a 4.5lb largemouth. taking $137. View full results and pictures at www.centralmidwestbass.com.
FORNELLI TAKES BIG WIN ON STOCKTON
Lucas Fornelli of Mound City, KS took out Saturday with high hopes of catching a limit of bass, as he always does. He did not reach the 5-fish limit, but bagged three bass that went 14.51 lbs on the scales, winning this American Bass Anglers D126 tournament
Mike Dill Wins Stockton Lake ABA Tournament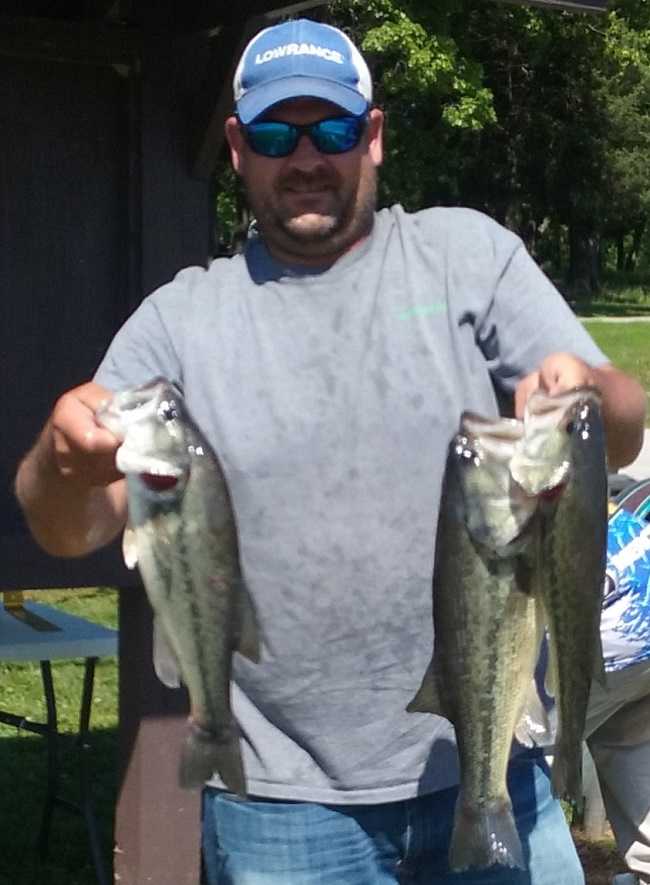 To say the bite on Stockton May 13 was a little tough is an understatement. Twenty American Bass Anglers took out from Old State Park Ramp at 6:30 a.m. Only one of them returned with a 5-fish limit of bass. The Greenfield, MO angler Mike Dill took the win with that limit weighing 13.41 lbs, anchored with second biggest bass weighing 4.37 pounds largemouth.