10/15/2018

JOSHUA PARRISH WINS AFT D72 AT OCONEE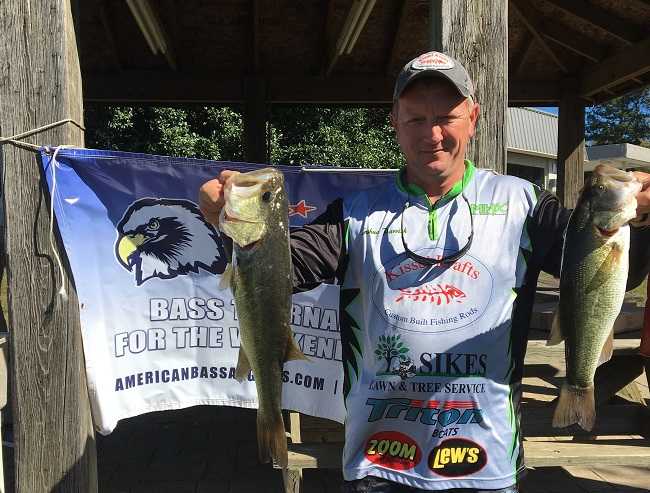 Joshua Parrish of Rincon, Ga was able to secure the win at Lake Oconee on October 13, 2018, for the AFT D72 tournament. Joshua said he caught his best four keepers using a Pop-R and shaky head on docks, using his Kissel Krafts custom built fishing rods. His total weight of 9.77-pounds put him in first place to take home $600 cash and a trophy.
10/15/2018

Dillion Roth Wins the ABA District 47 tournament on the Arkansas River
ABA American Fishing Tour D47 held its first 2019 season tournament on 13 Oct 2018 on the Arkansas River launching from the Maumelle Park ramp. 17 anglers came out and were greeted with good river flow and changing weather conditions. There was plenty of fish to be caught as most anglers reported catching a lot of fish, but better than average bass was tough to find. 17 anglers weighed in 66 fish, a 3.88 fish/angler average.
10/11/2018

Florida Couples Event to be Rescheduled
Due to Hurricane Michael and the aftermath, the Florida Couples event scheduled for October 13th will be postponed to a later date. For more information, please contact director Rick Moore at (850)651-1181.
10/10/2018

Virginia Division Cancels AFT 2019 Season Opener
Due to several factors associated with Hurricane Michael, Virginia director Gary Conner has canceled the Kerr Lake event scheduled for 13 October. Kerr Lake is still 2 feet above normal pool because of Hurricane Floyd, and the immediate area around the lake will receive 4 to 7 inches of rain on Thursday and residual additional amounts Friday morning. Coastal and river flooding is expected as well as possible widespread power outages as the storm passes through as a tropical storm. This event will not be made up, and entries already received for this event will be placed in hold status. Registered members need to contact member services at 256-232-0406 to apply their entry fee to a later event.
10/10/2018

Kelly Logan wins $10,480 on Lake Norman in Area 4 Championship
ATHENS, Ala. –Kelly Logan of Morganton North Carolina won the American Bass Anglers Open Series Area 4 Championship held on Lake Norman on October 6&7 2018. Running out of Blythe Landing in Huntersville NC, Logan weighed in a day one five-bass limit weighing 9.52-pounds. Going into day two in 13th place Logan caught another five-bass limit weighing 13.11-pounds which was the largest five-bass caught by a boater. Logan's two-day total was 22.63-pounds. Logan anchored is catch with a bass weighing 3.84-pounds which also gave him big bass honors for the boaters. For his win and big bass, Logan took home a total of $10,480.00.
10/10/2018

Steve Perkins Takes the Area 7 Championship Win on Lake Texoma
ATHENS, Ala. – Steve Perkins of Velma, OK won the American Bass Anglers Open Series Area 7 Championship, held October 6th and 7th on Lake Texoma. Consistency is key to staying on top and Steve found himself with a good finish on the day, putting him within striking distance. The weather changed from sunny to rain for day 2 and most anglers struggled to get the same bites, but for Steve, it turned his on. His bag of 5-fish came across the scales 16.81-lbs, the largest bag of the tournament, and put him on top of the leaderboard, earning him the $10,000.00 guaranteed win. Steve's 2-day total weight was 30.64-lbs.
10/09/2018

Austin Weaver wins $10,000 on
Pickwick in the Area 1 Championship
Austin Weaver of Sheffield, Alabama took home the win in the American Bass Anglers Open Series Area 1 Championship, held on Lake Pickwick October 6th & 7th, 2018. Launching out of McFarland Park Weaver caught five-bass on day one weighing 15.75-pounds. On day two, Weaver weighed in another five-bass limit weighing 18.09-pounds for a total of 33.84-pounds. With a 2.58-pound lead over second place, Weaver took home a check for $10,000.
10/08/2018

Mike Colbert wins on the Tar/Pamlico River
Mike Colbert, of Newport, North Carolina won the AFT Division 17, North Carolina Central tournament on the Tar/Pamlico River. This was an early bird tournament for the 2019 season. The event was held on the Tar/Pamlico River on 6 October 2018, launching out of Tranters Creek Ramp in Washington, North Carolina. Mike weighed-in 5 bass weighing 13.68-lbs just barely edging out Steve Leffingwell of Jacksonville, NC, who took 2nd place with 13.62-lbs.
10/08/2018

SAM DYAL WINS AFT D72 ON SINCLAIR
Sam Dyal of Baxley, Ga endured the very hot day at Lake Sinclair on October 6, 2018 and took the win at the AFT D72 tournament. Sam used plastics on a shaky head in shallow water to catch his 5-fish limit. He had a 3.11 pounder to anchor his sack totaling 10.64 pounds. Sam took home a nice First Place trophy and $738 cash for the win!
10/08/2018

Sims Takes the Win on Tensaw
Jimmy Sims of Mobile, Alabama won the American Fishing Tour District 41 tournament presented by American Bass Anglers. Running out of Live Oak Landing near Stockton, Alabama, Sims brought back five-fish that locked in the scales at 9.71 pounds anchored by a 3.37-pound kicker. For the victory, Sims took home a check for $522.
10/04/2018

Our friends and sponsor T-H Marine have a great G-Juice Special
10/03/2018

Bill Hamilton wins the D11 Championship on the Potomac River
William Hamilton of Huntingtown, Maryland takes the win on the Potomac River for AFT D11 on September 22nd and 23rd, 2018. On day one he weighed a respectable limit of five-fish that went 13.63 pounds with a 4.03-pound kicker. He went into the second day in second place less than a quarter pound behind the leader. On Sunday Bill caught the second largest limit of the tournament that went 15.70 pounds and the tournament, Big Bass of 4.99 pounds for a tournament, winning weight of 29.33 pounds. He sealed a margin of victory of 3 1/4 pounds over second place and won the $1000 first place prize.
10/02/2018

Tripoli wins on Chautauqua Lake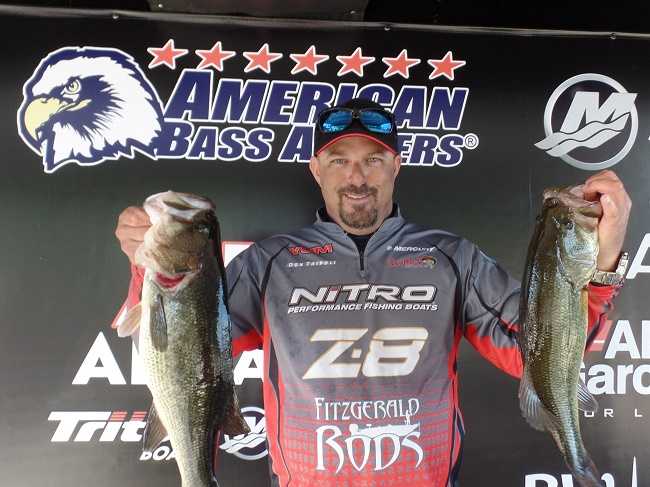 ATHENS, Ala. – Donald Tripoli of Webster, NY won the American Bass Anglers Open Series NE two-day area championship, held 9/29-9/30 on Chautauqua Lake.
Running out of Mayville State Park in Mayville, NY, Tripoli caught two-day total of 32.53 pounds. He anchored his bag with a 4.81-pound kicker. For the Boater Division victory, Tripoli took home a check for $10,000.
10/02/2018

Justin Angel Takes Another Win On Stockton Lake
Stockton Lake was no match for Justin Angel September 29 when he fished American Bass Anglers Division 126 qualifying tournament and weighed in 19.44 lbs. His winning bag was anchored with Big Bass of the tournament, a 7.28-lb largemouth. He took home $1005 for his win.
10/02/2018

Kim Neal wins Northwest SC D25 Tournament on Lake Hartwell
September 23rd, 2018 Anderson, SC. Twenty-eight anglers launched from Green Pond Landing near Anderson, SC. Twelve of those anglers brought back five-fish limits to the scales, but when the scales closed Kim Neal from Easley, SC took the victory with 11.34lbs. He accredited his win to topwater baits. For the win, Kim took home $651 in prize money plus an additional $150 for 1st Place Option Pot for total earnings of $801.
10/01/2018

Wooten Wins $10,000 in Area 5 Championship on Kissimmee Chain
ATHENS, Ala. – Bobby Wooten of Lithia, FL won the American Bass Anglers Open Series Area 5 Championship tournament, held September 29TH & 30TH, 2018 on the Kissimmee Chain. Running out of Camp Mack in Lake Wales, FL Wooten caught five-bass on day one weighing 24.15 pounds. On day two, Wooten weighed in another five-bass limit that weighed 22.52 pounds, and that sealed the deal for his victory by a slim one-pound margin with a total weight of 46.67 pounds. For the Boater Division victory, Wooten took home a check for $10,000 for his win.
10/01/2018

Jason Oxford wins Division 40 Tournament on Kentucky Lake
On Saturday, September 29, 2018 fourteen anglers launched from Lucas Harbor ramp in New Johnsonville, TN. It was a tough day of fishing with none of those anglers bringing a limit to the scales. When the scales closed only 6 anglers had fish to weigh in. Jason Oxford from Camden, TN took the victory with one fish weighing 4.38 lbs. For the win, Jason took home $406.
10/01/2018

Alabama North and Mississippi to hold
Area 1 Championship on Pickwick
The American Bass Anglers Open Series will hold its Area 1 Championship on Pickwick out of McFarland Park on October 6 -7, 2018.
The anglers will launch from McFarland Park in Florence, Alabama at 6:30 a.m. or safe light on day one and two. Weigh-in will be at 3:00 p.m. on day one and at 2:00 p.m. on day two. Registration will be held at the tournament trailer on Friday, October 5th starting at 4:00 p.m. with a meeting to follow at 6:30 p.m.
9/29/2018

Ready for Your Chance to Take Home a New Boat
The 2018 American Fishing Tour National Championship is rapidly approaching. Lake Hartwell is currently off limits and is laying in wait for the top Anglers from across the country. The top 500 Anglers from all across the country are coming to fish for their chance at one of three fully rigged Triton Bass Boats. These boats are loaded with products from our sponsors, the only thing these boats are missing is their new owners, and they will get that Friday, October 26th.