9/29/2016

Lloyd Wins on Otis
Sean Lloyd of Western, Massachusetts won the AFT D97 event held on September 25th on Otis Reservoir. The group launched out of the State Ramp in Tolland, Massachusetts with temps at takeoff in the low 40's. Lloyd caught five fish weighing 7.72 pounds. Lloyd caught his fish on a prototype "double wide" spinnerbait built by Underground Lures.
9/28/2016

Freeman Claims First Place for $10,000
Glenn Freeman of Converse, Louisiana won the American Bass Anglers Ram Truck Open Series Region 6 Area Championship, held Sept 24th and 25th on Toledo Bend.
9/27/2016

Vitale Takes Win on Greenwood
Art Vitale of Kenilworth, New Jersey won the AFT New Jersey D10 event held on September 17th at Greenwood Lake. D10 was running out of Small Craft Marina in Hewitt, NJ. Vitale caught five bass weighing 10.78 pounds with a 4.37 -pound kicker Largemouth. For the victory, Vitale took home a check for $337. Art caught most of his fish using soft plastic in deep weeds, Drop Shotting. The Big Fish Side pot was worth an additional $45.00. Art has won the last several events on Greenwood.
9/27/2016

Jimmy & Jean Isom Win on Martin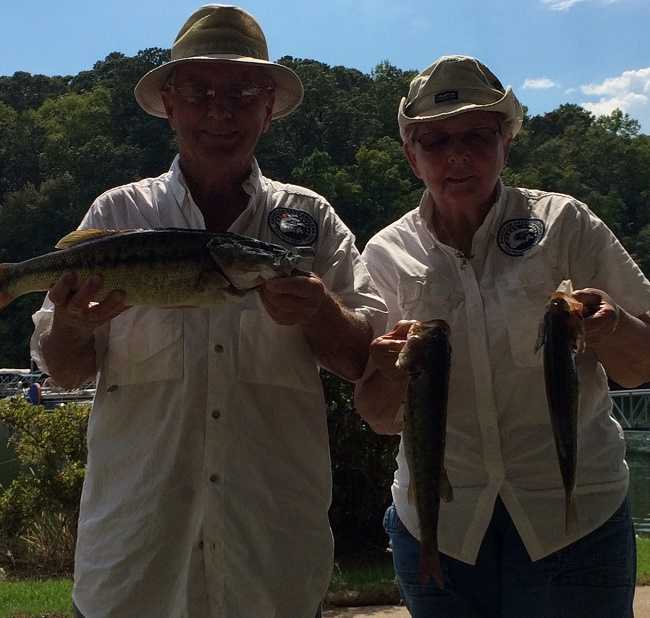 Jimmy and Jean Isom of Cropwell, Alabama won the American Couples Series, operated by American Bass Anglers, Central Alabama D1 event held September 24th on Lake Martin.
9/27/2016

Gonzalez Wins Area 5 Championship on Toho
Casey Gonzalez of Brandon, Florida won the American Bass Anglers Ram Truck Open Series Area 5 Championship between the Florida Central and Florida South divisions tournament, held September 24th & 25th on Lake Toho.
9/27/2016

Messer Takes Home Victory at Kentucky
Tim Messer of Hendersonville, Tennessee won the American Bass Anglers Ram Truck Open Series Area 2 Championship, held September 24th & 25th on Kentucky Lake. Running out of Paris Landing State Park, Messer caught ten bass weighing 35.25 pounds to take home a check for $10,000 as well as taking home a Simms Challenger rain suit.
9/27/2016

Morgan Takes Win on Norman
Brian Morgan of Newton, North Carolina won the Ram American Fishing Tour D14 event on Lake Norman in Mooresville, North Carolina on September 25th. Brian is one step closer to the Ram AFT National Championship with a first place win on Lake Norman this past weekend. Morgan bested the field of 26 anglers by weighing in five bass which weighed 11.34 pounds, worth $640.
9/21/2016

Thompson Wins on Potomac
Tom Thompson of Falls Church, Virginia takes the win on the AFT D11 Potomac River event that was held on September 17th. Tom topped the competition with a five fish limit weighing in at 14.60 pounds. "We fished two general areas on the day. One near the launch and the other a few miles away. Fished seemed to be active early even with the high water. First two in box came on frog. Third on senko. fourth and fifth on pop r. Oddly enough fishing got worse as the tide got lower, for us at least. Did not make a cull all day," stated Thompson.
9/21/2016

Championship Season is Coming
The year is winding down and the Ram American Fishing Tour Championship is on the horizon. Weekend anglers from across the USA will descend on Barbour County Alabama and Lake Eufaula in October (16th-21st) and spend a week doing what they love, fishing, socializing with friends and competing for big prizes.
The Championship offers big prizes for the weekend angler. Three Triton Boats with Mercury Outboards, Ram Truck Leases, cash, and many great giveaways from ABA sponsors.
9/21/2016

Pam and Ken Draskovic Win on Guntersville
Pam and Ken Draskovic from Scottsboro, Alabama topped the field in the Alabama North Couples Tour season opening event held on Lake Guntersville this past Saturday, September 17th. Their total weight of 12.76 pounds locked in the victory. Pam won ladies Big Bass with a 2.21 pound fish while Ken received men's Big Bass honors with a 3.31 pound largemouth. Lake Guntersville has been very tough to fish lately and this tournament was no exception. The Draskovic's were the only team to weigh in a limit. Their success was credited to the use of frogs and topwater lures.