News -
News - WBS
Weekend Bass Series Updated Schedules and Clarifications
November 24, 2014 Athens, AL. - American Bass Anglers announced today updates to the Weekend Bass Series schedules and a rules clarification for the 2015 season. ABA works to eliminate as many conflicts as possible so our anglers have more choices. There are changes in several divisions and these are shown below.
Highlights for the 2015 Season:
Increased Payout: For 2015 the Weekend Bass Series will offer guaranteed first place boater money of:
Co-anglers will also get the same guarantee first place money of:
In addition, 20% of the field will receive a check in each event.
Linking: The antiquated linking concept, not created by ABA, and has been used to connect boaters and non-boaters to help equal the numbers. This process has caused far too many issues and will no longer be used. Registrations will be based on Package first, then the anglers date and time of registration to determine their status.
Boat on Boat Draw: The results of the linking process caused this issue and starting in the 2015 season there will be no boat on boat draws, instead polygraphs will be used as needed.
Late Fees: With today's economy the anglers need time to pay entry fees, therefore ABA is decreasing the late fee period prior for events from 10 days to 2 days. Late fees will only be charged when signing up for events after 5pm on Wednesday the week of an event. In addition, a late fee exemption will be given to boaters and co-anglers who sign up together through Friday 12 noon CST before the event. To receive this exemption, you must call the office to register. All onsite registrations will be charged a late fee.
(Updated) Emergency Exemption (Updated): Anglers tell us they want to compete in all 5 divisional events but so many run into an emergency situation that prevents this. One emergency exemption per year will be allowed for anglers that have signed up for all 5 divisional events. Angler must request exemption prior to Wednesday 12 noon central standard time the week of the event. If approved, the angler will receive credit for that event however, no points will be awarded.
News - WBS
Three ABA Anglers Win Big With Triton Gold at Ray Scott Championship
Albert Collins of Nacogdoches, TX has won the largest payout in Triton Gold history after placing first in the 2014
Ray Scott Championship. Collins was awarded a whopping $50,000 from Triton on top of his first place prize of $100,000. After purchasing a new Triton Boat in 2013, Collins immediately registered into the Triton Gold contingency program. Collins currently owns a 2013 Triton 20XS and is looking at colors for a 2015 model. "I think the Triton Gold program is one of the best programs out there for tournament anglers. After today's win, I have won almost $95,000 through the Triton Gold program in less than two years."
Second place finisher Cavin Young of Prince George, VA was awarded $5500 from the Triton Gold program. Young fished the event from his 2013 Triton 20XS. "I don't see how you can afford not to run a Triton if you fish tournaments. No other boat company out there has a program that matches Triton Gold. Triton has the best handling ride of any boat that I've ever owned," said Young.
News - WBS
Dean Wins Royal Purple Highest Finisher Award at Championship
Scott Dean of Terrell, TX has earned more Royal Purple Royal Rewards for the year, this time at the Ray Scott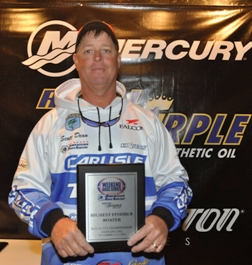 Championship. Dean was the highest finishing boater of the championship registered in the Royal Purple Royal rewards program. He has been the highest finisher in the program at the divisional level this year as well. Since Dean is a Level II member of the rewards program, he will receive two cases of Royal Purple outboard oil and a case of Royal Purple MaxGear gear lube for his highest finish. All Dean had to do to participate in the program was turn in receipts from his Royal Purple purchases made during the year. Purchase the brand of lubricants that gives back to ABA anglers, Royal Purple.
The Royal Purple Royal Treatment program was created as an incentive to ABA anglers that purchase Royal Purple products throughout the year. Anglers can win Royal Purple products and even ABA entry fees in monthly drawings and for being the highest finisher in the Royal Purple Royal Treatment program at ABA events.
News - WBS
Stearnes Gets Royal Treatment at Ray Scott Championship
Brett Stearnes of Joplin, MS reaped the benefits of the Royal Purple Royal Treatment program yet again, and
this time in a really big way at the Ray Scott Championship. Stearnes was the highest finisher in the Royal Purple Royal Treatment as a co-angler during the championship. He is a Level IV member of the program, so he will be receiving the second highest reward in the entire program. The only higher paying reward would have come, if he had fished the championship as a boater. Stearnes will receive six cases of Royal Purple product, paid entry fees into the Weekend Bass Series division of his choice, expense money for each event, a Simms rain suit, Royal Purple jerseys, an ABA membership, and a Freedom Pass. This is an example of what can happen when you make the change to the best lubricants on the market, Royal Purple.
The Royal Purple Royal Treatment program was created as an incentive to ABA anglers that purchase Royal Purple products throughout the year. Anglers can win Royal Purple products and even ABA entry fees in monthly drawings and for being the highest finisher in the Royal Purple Royal Treatment program at ABA events.
News - WBS
Collins Wins $150K Boater Prize at Ray Scott Championship and Baucom Wins $50K Co-angler Prize
Royal Purple pro Albert Collins sealed the deal on the final day of the 2014 Ray Scott Championship. His final
day catch of 14.34 pounds was enough to give the Nacogdoches, TX angler a four day total of 56.18 pounds worth $150,000. The first place boater prize in the event was worth $100,000 and Collins earned another $50,000 for his win from Triton Boats through the Triton Gold program. Collins actually qualified for the event twice, once for being AOY of the Southeast Texas division of the Weekend Bass Series and for his fifth place finish at the South Central Regional Championship on the Red River. "I feel awesome, great, terrific, on cloud nine," said Collins after winning his second Ray Scott Championship, formally the Weekend Bass Series Championship, in three years.
The full-time Sam Rayburn guide said that practice for the Ray Scott Championship started off really slow without a bite on the first practice day and only two bites on the second day. "I started off in the Elk River. After noticing that there was a 10 degree difference in the water temperature between the Elk River and the main river channel, the main channel being 10 degrees warmer, I decided that I would shift my focus to the main channel for the final practice day. My final practice day still started off bad, but I happened to see the outline of a big stump on the edge of the river channel and threw an A-rig past it. I caught a keeper 8and then, another keeper on the next similar stump. After that, I started idling the river channel and looking for big submerged stumps on the edge of the channel and marking each one on my GPS. I would occasionally stop and fish one, getting bit on most of them," said Collins. His bait of choice was a Yumbrella Flash Mob Jr. with 3.5", Money Shad colored, Kicker Fish swim baits. "I found that my bites were coming off of the stumps in 4-10 feet of water and I stuck with it throughout all four days of competition."
News - AFT
Nicholas Brown First Place at Lake Seminole
11/09/2014
Athens, Al - Nicholas Brown of Bainbridge, GA won the American Fishing Tour Florida - Seminole division 114 tournament with five fish weighing 21.60 pounds held on Seminole on 11/09/2014.
Second Place went to David Howell with a weight of 18.85 pounds. Third Place was Len Lindahl with a weight of 16.87 pounds.
These anglers are acquiring valuable points to insure their birth in the American Fishing Tour National Championship that will be held this fall. Their points are also being used to determine the divisional angler of the year. The top angler by points earned in this division will represent the division in the Angler of the Year final round.
News - AFT
Thomas L. Sheffer Wins on Shearon Harris
11/08/2014
Athens, Al - Thomas L. Sheffer of Cary, NC won the American Fishing Tour North Carolina East division 15 tournament with 3 fish weighing 8.64 pounds held on Shearon Harris Res on 11/08/2014.
Running out of Cross Point Landing near New Hill, NC,the Cary, NC, angler caught 3 bass weighing 8.64 pounds. Thomas took home a check for $264.00. Thomas caught his fish on worms.
In second among the competitors, Ken McNeill of Raleigh, NC, caught 2 bass weighing 3.47 pounds.
News - AFT
Terry Canady Dominates on Grand Lake
11/08/2014
Athens, Al - Terry Canady of Skiatook, OK won the American Fishing Tour Oklahoma division 65 tournament with 5 fish weighing 12.19 pounds held on Grand Lake on 11/08/2014.
Ten minutes before take-off a strong dry cold front came through changing the soft West winds to the North at 20 MPH, forcing anglers to readjust their plans. Temperatures dropped and the wind chill became brutal. By the end of the day, the temperature increased to the upper 40's, but the wind continued it's assault. Two anglers managed a five fish limit. Terry Canady of Skiatook, OK brought in 5 fish weighing 12.19 pounds, and Eric Craft of Erie, Kansas with 9.30 pounds. Canady revealed "his best fish came on a spinnerbait and a shaky head". He was able to cull three of his smaller fish during the late afternoon.
Canady also took big bass honors with a 3.34 pounder. Following Canady was Eric Craft in second, Kelly Banks in third, Ron Large in fourth and Bill Stines in fifth.
News - WBS
Collins Hangs on to Lead After Day Three
Royal Purple pro Albert Collins of Nacogdoches, TX hangs on to the lead after day three of the Ray Scott
Championship. Collins brought in 14.40 pounds today bringing his three day total to 41.84 pounds. He currently holds a 5.44 pound lead over second place. "It was slower for me today, but I did get my five pound kicker that I needed. I didn't get my limit until around 10:30 this morning. I'm sticking with my same pattern tomorrow. I feel good and I think I can do it one more time tomorrow," said Collins.
Second place after day three belongs to Sam Boss of Paducah, KY with a three day total of 36.40 pounds. He has been super consistent this week weighing in bags around the 11 and 12 pound mark each day. If the leader's pattern holds, Boss will need a big bag to take the lead on the final day.
George Baucom of Charlotte, NC held on to the co-angler lead after the third day. His three day total of 26.43 pounds has him ahead of second place by over six pounds. "I had a super boater today and he took me where I wanted to go. The fish didn't bite like yesterday and it was cold and windy all day. I'm looking forward to fishing with Albert Collins tomorrow," said Baucom.
The second place co-angler spot on Day Three belongs to Harry Peyton of Decatur, AL with a total of 20.36 pounds. I found some good fish and I'm hoping that my boater might take me to them at some point tomorrow. I will head out tomorrow and swing for the fences," said Peyton.
Complete Day Three results can be found at this link.
News - WBS
Collins Takes Lead at Ray Scott Championship
Royal Purple pro Albert Collins of Nacogdoches, TX has moved into the lead after Day Two of the Ray Scott Championship at Lake Wheeler. Collins won the 2012 Weekend Series Championship at Sam Rayburn. He is now on his way to cashing another $100,000 check after weighing in a two day total of 27.44 pounds. "I caught around 15 keepers yesterday and today. I've been fortunate enough to catch a kicker both days. I had a four and a half pounder yesterday and a six pounder today. Those fish should be there tomorrow and I think I can catch them again. I just need another kicker bite," said Collins.
Cavin Young of Prince George, VA sits in second place on the boater side with a two day total of 25.92 pounds. "Practice was really slow for me, just small fish. I did catch 17 keepers yesterday, but only 7 today. My kicker today really helped out. I think there are lots of fish in my area. I'm just hoping it holds out for two more days. If I can get a limt early, I may try some new areas tomorrow," said Young.
The Day Two co-angler leader is George Baucom of Charlotte, NC with 20.31 pounds total weight, giving him a six pound lead heading into Day Three. "I went opposite directions both days, north yesterday and south today. I've been throwing A-rigs and Shakey Heads. Going into tomorrow, I feel really good," said Baucom.
Stan Forrester of Westville, OK is the second place co-anger after Day Two with 14.31 pounds. "It was slower today than yesterday. The wind blew really hard and the conditions were just tougher. I feel confident that I can catch a limit tomorrow," said Forrester.
Complete Day Two results can be found at this link.
News -
Wicked Pissah Lures™ to Sponsor American Bass Anglers Tours
Athens, AL (November 13, 2014) – American Bass Anglers (ABA) announced today that Wicked Pissah Lures has signed an exclusive sponsorship agreement with American Bass Anglers. Wicked Pissah Lures product line includes a large selection of glow in the dark products featuring, a military-grade glow never before available to the general public.
Designed and endorsed by Paul Hebert, a commercial fisherman and regular on the TV show Wicked Tuna, the lures' "fish-magnet" technology will be unveiled at the Ray Scott Championship November 14-15, 2014 in Decatur Alabama at the Ray Scott Championship Outdoor Expo.
The Wicked Pissah Lures sponsorship will cover all five trails owned and operated by the ABA: Weekend Bass Series (WBS), the American Fishing Tour (AFT), the American Couples Series (ACS), the Annual Military Team Tournament and the new 100% Plus Team Tour.
"Our anglers are always looking for the latest ways to catch more bass and win prize money. I am certain that they will all be excited to test out these lures to see if they really do "glow away" the competition," said Morris Sheehan, president of American Bass Anglers.
"We were impressed with both the organization and the passion of its members, so we knew that a partnership with the ABA would be a great way to kick off the roll out of Wicked Pissah Lures," says company CEO Adam Boulay. We look forward to a long and successful relationship, that will be emblematic of the length of our glow technology."
Anglers will be able to see and test Wicked Pissah Lures for the first time this fall at the Ray Scott Championship in Decatur, AL on Wheeler Lake November 14-15, 2014. Starting in 2015 Wicked Pissah Lures will have a presence at the all Weekend Bass Series, 100% Plus Team Tour events as well as the Military Team Bass Tournament and both the American Fishing Tour and Couples Series Championships.
News - CPL
Korrina McKinney and Matt Sharp Score on Douglas
10/25/2014
By Kathy Smith
Douglas Lake, Dandridge TN - October 25, 2014
The first tournament in the Couples' Series is always exciting. It's the beginning of a new year with new scores and new goals. The day started off in the low 40s and was super foggy! Seven couples were in attendance.
Korrina McKinney and Matt Sharp arrived at their first spot. Shoot! Matt, lost the first fish and it was a big one. Ahh, but Korrina gets a bite and brings in that bass. First fish in the boat - check. The top water bite is on and this couple catches 10.29 pounds of bass. Matt also hooked and landed a big one which earned him Men's Big Bass. They won $315 for first place and another $35 for Matt's lunker.
The fog finally lifted late morning and temperatures rose to 68 degrees F. Water temp was 65 degrees F.
News - WBS
Smith Leads Day One of Ray Scott Championship
After an unfortunate turn of events first thing this morning, Dustin Smith of Mt. Dora, FL still managed to lead Day
One with a 14.30 pound limit along with the 5.99 pound Big Bass. A broken throttle cable on his initial run changed Smith's plan completely. "After I broke down, I immediately started searching for some aggressive fish, while trying to figure out how to make it back to weigh in. Thankfully, the ABA staff was able to help get me in to weigh in around 12:30 today and The Boat House in Athens was able to get my boat repaired. I'm ready for tomorrow and I think I can still catch them on Day Two. I would like to give a huge thank you to ABA and The Boat House for all of their help," said Smith.
Second place on Day One belongs to Chad Hicks of Rockville, VA with 14.10 pounds.
Jeff Loach of Chickamauga, GA is leading the co-angler side with 10.54 pounds. Loach did not want to talk about his main bait or pattern on Day One. "I had a great partner today. I think I have the bait, but I just don't know if I can catch the same size fish tomorrow," said Loach.
The 6.02 pound co-angler Big Bass was caught by Clyde Whiteside of Forrest City, NC. Whiteside is sitting in second place with 9.20 pounds.
Complete Day One results can be found at this link.
News - WBS
Ray Scott Championship Launches After Weather Change
(Athens, AL) Championship anglers launched from Ingalls Harbor on Wheeler Lake in Decatur, Alabama this morning and were met with a big change in temperature. At safe light the tempature was 34 degrees with a wind chill of 30 degrees, a major change from a comfortable 70 degrees yesterday.
The anglers are competing for a $100,000 first place prize at the inaugural Ray Scott Championship. Ray Scott spoke to the anglers last night at the pairing and safety briefing and encouraged them to compete like champions.
The field is made up of anglers from all over the country and represent 20 different divisions.
ABA Christmas Special!

Ray Scott Championship Final Results
Pick Your Tour
American Fishing Tour
Weekend Bass Series
American Couples Series
100% Plus Team Trail
Military Bass Anglers

AFT Championship final results

Receive Flyers by Mail
If you are not an ABA member and would like to recieve ABA Tournament Trail Flyers as they become available please join our mailing list. (Click Here)
Receive Email News
2015 Season News Coming Soon!
Sign up for Email News Releases and be the first to get the 2015 season details! Sign up link

New Discounts for ABA members only! Check out the latest from the Member's Only Area! Hottest Baits and Gear!

For Members Only! Login In Link

Sponsor Product
of the Month!

Navionics Boating! The World's best selling boating app is FREE!

Learn all about ODYSSEY Batteries



Home of the Ray Scott Championhip
Sponsor Product Spotlight
Royal Purple's
Max-Clean Fuel System Cleaner & Stabilizer

Royal Purple's New Max-Clean is a state-of-the-art high performance synthetic fuel system cleaner that maximizes the performance of your fuel system. Max-Clean restores fuel economy and deeply penetrates and cleans injectors, carburetors, intake valves and combustion chambers.
Learn More

All New ABA Shirt Designs Coming Soon from our New Clothing Partner


Follow ABA on Facebook
and win prizes!

Stay With People Who Care - Promotion
Stay With Best Western
Win Free Travel Cards!

BWS Divisionals - $100 Travel Card
BWS Regionals - $300 Travel Card
BWS Championship - $1,000 Travel Card
AFT Championship - $1,000 Travel Card
Couples Fall Promotion - $500 Travel Card

Best Western Hotels and American Bass Anglers are offering an incentive reward program to ABA anglers for staying at Best Western Hotels. .
READ MORE

Supporting Sponsors

Contact Information
Phone 256-232-0406
FAX 256-233-2295

ABA is now taking applications for American Fishing Tour and the American Couples Series Divisional Directors. Email for more information to: info@americanbassanglers.com