5/02/2016

David Griswold Wins on Lake Greenwood
David Griswold of Woodruff, SC won the Ram American Fishing Tour, presented by American Bass Anglers, South Carolina Division 96 qualifier tournament held May 1, 2016 on Lake Greenwood running out of Greenwood State Park near Ninety Six, SC.
5/02/2016

AOY Cameron "The California Kid" Smith Wins at Long Pond
Faced with an air temperature of 37 degrees at registration and warming to 47 degrees by mid afternoon with a lingering cold front and showery conditions, Cameron put his shallow pattern together and was determined to overcome any obstacle that came his way.
4/29/2016

Long Day at Braidwood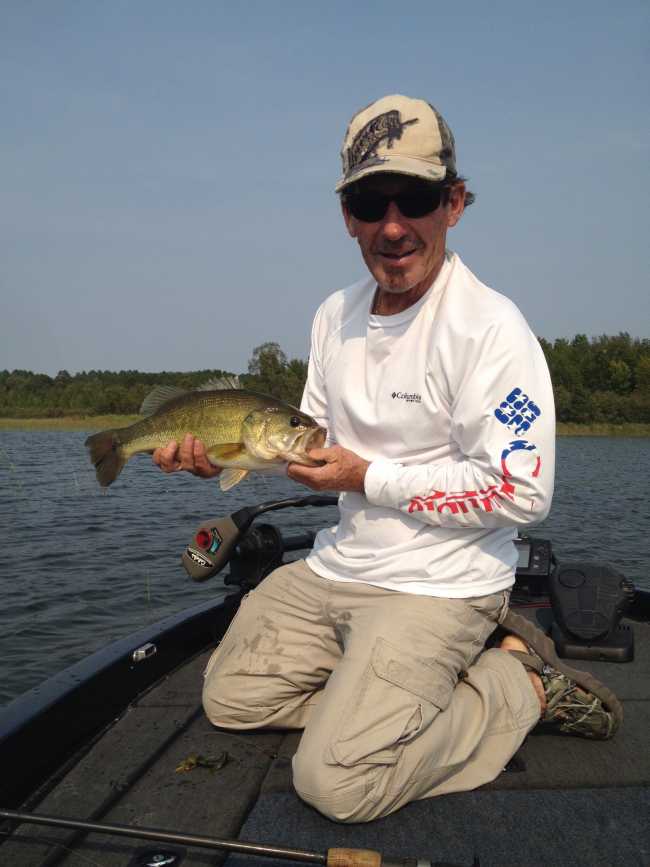 In our division's second event of the year, Greg Long from Orland Park, blasted the scales with a nearly nine pound bag, with a three fish limit. Greg was fortunate enough to be able to cull fish most of the day while the rest of the field struggled.
4/28/2016

Worsham and Rutler Win on Chickamauga
Saturday was an amazing day to fish. The team of Greg Worsham and Kaitlin Rutler placed first out of 17 teams in the April 23rd American Couples Series tournament on Chickamauga.
Top Finishers
1st Place - Greg Worsham and Katilin Rutter - 26.26 pounds Five Fish
2nd Place - David and Pat Dennis - 16.08 Five Fish
3rd Place - Seth Davis and Brittney Pelfrey - 15.11 Five Fish
4/27/2016

Matthew Oakley Wins on Tar River
On April 23rd, 2016 Division 15 of the Ram American Fishing Tour held its fourth tournament of the season out of Washington City Havens Garden Landing in Washington, NC. Taking first place was Matthew Oakley of Farmville, NC. He caught five bass weighing 14.48 pounds. Matt also had the Big Bass of the tournament weighing in at 3.80 pounds. Matt took home a check for $425 for first place, Bass Boat Instant Shine from Capt. Gary's, $130 for Big Bass, and $91.00 for the 1st Place TWT, all totaling $646. Matt caught his fish on a little of everything.
4/27/2016

Joey Shelton Wins On Lake Wheeler
From the Ram American Fishing Tour Division 29, Alabama North April 23rd, Joey Shelton wins Lake Wheeler event with 13 pounds. Joey located some deeper fish using finesse tactics to secure his victory. The stringer contained smallmouth, spotted, and largemouth bass, including a 4.06-pound fish to win the big bass pot. Fourteen anglers applied their skills on a very tough day with only five limits being caught. Water level was at full pool.
4/26/2016

Mike Rinaldi wins on Candlewood Lake
Mike Rinaldi won the RAM American Fishing Tour presented by American Bass Anglers, Connecticut Division 6 tournament, held on Candlewood Lake April 23rd. The North Haledon, New Jersey angler caught five bass weighing 15.95 pounds. Mike really earned the win as the day proved to be a challenge with rain in the morning followed by white capped windy lake conditions in the afternoon. Mike said he caught his fish with three different lures and presentations. Two keepers came on a jerkbait, one on a crankbait and the other two on a jig. For the victory Mike took home a check for $543.
4/25/2016

Amanda and Vince Smith Win on Lake Keowee
Thirty South Carolina Couples enjoyed pleasant conditions in their Lake Keowee tournament on April 23. All of the 112 fish weighed were released healthy and happy.
First place was taken by Amanda and Vince Smith with 5 fish weighing 12.6 pounds. Their limit included Vince's 4.2 pound Men's Big Bass. Their fish were caught on two different patterns. Three fish came on a "Scrounger" in three feet of water. Two fish were caught sight fishing. The Smiths live in Westminster, South Carolina.
4/25/2016

Jason Dies Wins on Old Hickory Lake
Jason Dies won the Ram American Fishing Tour Central Tennessee tournament, held April 24th on Old Hickory Lake. The Lebanon, Tennessee angler caught five bass weighting 11.00 pounds for the victory, Jason took home a check for $337.
4/22/2016

Chip Rodgers Wins on Weiss Lake
From Division 88, Alabama East/Central Chip Rodgers of High Point, GA is one step closer to the ABA National Championship with a First Place win in the American Fishing Tour bass tournament held on Weiss Lake April 16th. Chip visited numerous brush piles he had located with his side imaging unit and landed four fish that weighed in at a whopping 22.55 pounds. A Secret Lures 2XHD jig was credited for his day's catch.