7/19/2018

ABA COUPLES SERIES
Kentucky Lake
It was a hot, humid and at times stormy summer day on Kentucky Lake for the July 15 ABA Couples Series event. I think those conditions kept many competitors home as we had our lowest turnout of the year. Only 10 teams launched at 5:30 AM. Five of the ten boats weighed in a total of 12 bass for 37.43 pounds. We paid out two places for a total of $850.00, including big bass for both men and women.
Brandi and Scott Vanover had no problem with the extreme conditions and brought in a limit of bass weighing 14.97 pounds. The couple reported catching their fish on main lake secondary ledges and humps using primarily jigs. They collected a nice winning paycheck of $500 for their day's work. This paycheck included $50 for Brandi's Big Bass for the Ladies of 3.97 pounds. This is their first win within our Division; however, they have been very close many times in the past. Congratulations Brandi and Scott!
Second place went to Nancy Orren and Bill Bruce. They had two bass, which included in those was Bill's Men's Big Bass trophy of 5.19 pounds. Bill said he caught that fish in 5 feet or less of water on plastic! Nancy and Bill's total weight was 8.76 pounds. They took home $350 for their hard work.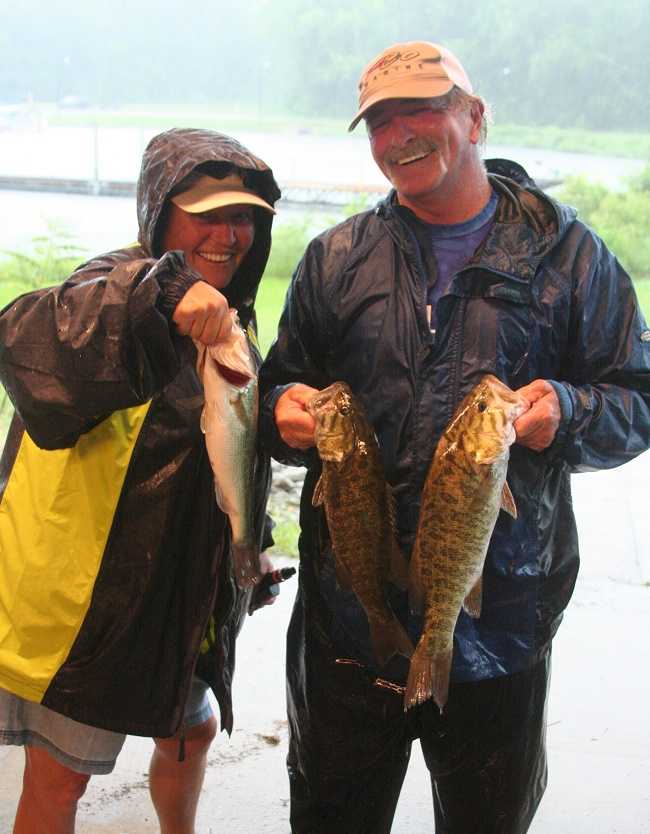 Dee and Danny Baggett finished third with three fish weighing 7.39 pounds. Two of the three were very nice smallmouths caught on the main lake.
Fourth place went to Cindy and Bob Linton with Cindy's 3.35 pounder.
Finishing up the top 5 was Paula Keller and David Bowman with a nice 2.96 bass.
As always, some prizes were awarded by drawing two teams that did not finish in the money.
Our final tournament will be held on Kentucky Lake at the Big Bear Ramp near Benton on August 5. We will launch at 5:30 AM and weigh-in at 1:30 PM. Remember to register early if possible. In addition, the new Kentucky tax law is now in effect and our entry fees, for tournaments at Kentucky ramps, will have a 6% tax levied on them. Our entry will now be $106 for those tournaments. We will be at the ramp for boat check and late registrations at 4:30 AM.
We will have our season ending cookout immediately following the weigh-in. There will be lots of food and several prizes to be presented through drawings. The Anglers of the Year Award will also be presented. Anglers of the Year will come down to this last tournament!
American Bass Anglers commitment is to provide low cost, close to home tournaments for the weekend angler and at the same time offer each competitor an upward path for individual angler progression. For more information about the American Bass Anglers and the American Fishing Tour, the Open Series, the 100% Plus Team Tour, or the American Couples Series visit www.AmericanBassAnglers.com .
American Bass Anglers, Inc. is supported by Triton Boats, Mercury Outboards, Hydrowave, T-H Marine, ABU Garcia, Berkley, Garmin, Maui Jim, Power Pole, Sirius XM, Optima Batteries and GEICO.
American Bass Anglers, Inc. can be contacted @ (256)232-0406 or visit www.AmercanBassAnglers.com