7/12/2018

ABA COUPLES SERIES
Kentucky Lake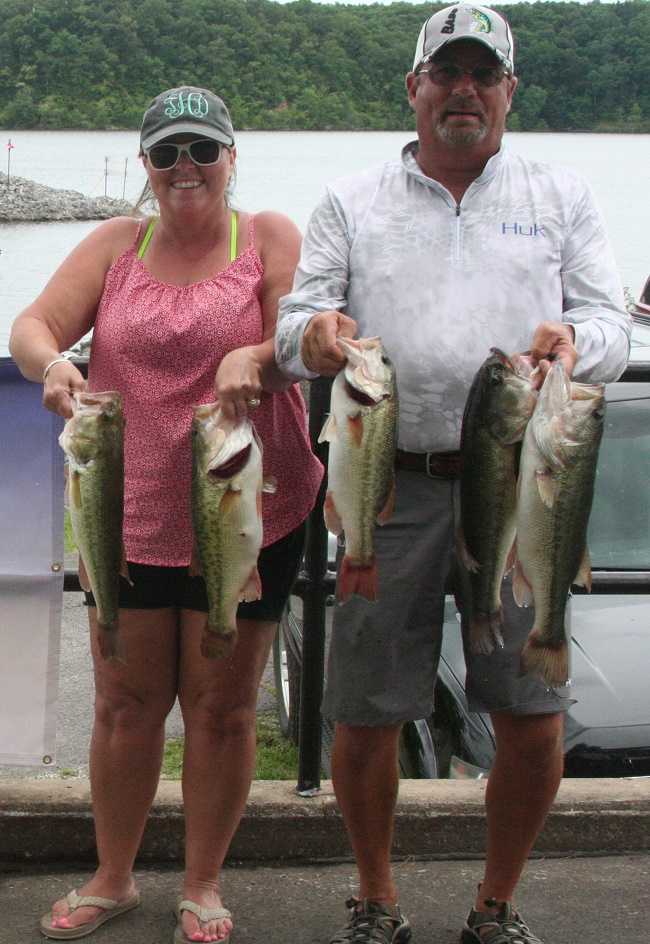 It was another beautiful summer day on Kentucky Lake, June 24, 2018 for the ABA Couples Series. There was lots of sunshine and a slight breeze, perfect conditions for the legendary ledge fishing on this lake. The air and water temperatures were in the high 80s. Seventeen teams launched at 5:30 AM to conquer those ledges. As usual, the bass cooperated with some competitors, while ignoring the efforts of others. Ten of the 17 boats weighed in a total of 25 bass for 79.01 pounds, 23 of which were released alive, healthy and happy. We paid out four places for a total of $1,435, including big bass for both men and ladies.
Newcomers, Larry Bailey and Tammy Hoffner barbarously introduced themselves to the group by immediately taking first place in their inaugural tournament! OR maybe it was just our other competitors' way of warmly welcoming them to the trail. Whatever the case, Bailey and Hoffner brought in a 5 fish limit weighing 16.15 pounds. The couple reported catching their fish on main lake ledges using jigs and Carolina rigs. They collected a nice winning paycheck of $575 for their day's work.
Last year's Division Anglers of the Year made a valiant run at the winners with a 3 fish effort weighing 13.65. Ladies' Big Bass of 6.71 pounds was secured by Shari on the first cast of the day. She was using a green pumpkin Jiggy J jig on a secondary ledge. Some people have claimed she may have been using live bait caught by Jay. Look closely at the picture and you be the judge! Shari did say Jay was magnificent handling the net this weekend. The Holsapples took home $430 for the day, $330 for second place and $80 for Ladies Big Bass.
Third place was taken by Scott Vanover. He brought 4 fish to the scales weighing 12.33. His sack was anchored by Men's Big Bass of 4.70 pounds. Scott worked the main lake ledges with jigs throughout the day. Everyone was amazed he was able to pull this off without his wife, Brandi, present. We will not get into why she could not make this tournament!! Scott took home a total of $305 for his solo effort, $225 for third place and $80 forMens' Big Bass.
The final check went to Kent and Secret York for their 3 fish catch of 8.23 pounds. The York's were also working main lake ledges with jigs and Carolina rigs. They took home $125 for their hard work.
I would like to take a moment to congratulate three of our regular ladies for their participation in the LBAA last week on Kentucky Lake. Debbie Warner, Brandi Vanover, and Secret York. Brandi finished 2nd, while Debbie finished 5th. All three ladies qualified for the LBAA Classic on Bull Shoals Lake in September. Congratulations Brandi, Debbie, and Secret. You, young ladies, are outstanding representatives our Kentucky ABA Couples Series here on Kentucky Lake.
As always, some prizes were awarded by drawing three teams that did not finish in the money. They each received 100 count packs of soft plastic baits in the drawing. Congratulations to Bowman and Keller, the Lintons and the Wards on theirprize winning draw. We will be giving away much more in future tournaments, along with a great BBQ and hundreds of dollars of prizes at our last event at Big Bear.
Donna and I want to thank everyone for joining us in this trail. We would also like to thank everyone for all the prayers and well wishes for Donna as she continues to recover from her unfortunate accident resulting in a fractured vertebrae. She has a long slow road to recovery, yet hopes to be back soon. We have a great group of competitors that are great sportsmen and friends. Everyone seems to have a great time and willing to help each other, even when the fishing and conditions are tough. We are proud to be associated with these great fishing enthusiasts. Invite friends and family to join us. If we can reach the point of having over 30 boats we will be paying nearly $1,000 for 1st place!
Our next tournament will be held on Kentucky Lake at the Paris Landing on July 15. It should be a great event. Please note the new tournament hours for the remainder of this season. We will launch at 5:30 AM and weigh-in at 1:30 PM. We will be at the ramp for boat check and late registrations at 4:30 AM.
American Bass Anglers commitment is to provide low cost, close to home tournaments for the weekend angler and at the same time offer each competitor an upward path for individual angler progression. For more information about the American Bass Anglers and the American Fishing Tour, the Open Series, the 100% Plus Team Tour, or the American Couples Series visit www.AmericanBassAnglers.com .
American Bass Anglers, Inc. is supported by Triton Boats, Mercury Outboards, Hydrowave, T-H Marine, ABU Garcia, Berkley, Best Western Hotels, Garmin, Maui Jim, Power Pole, Sirius XM, Optima Batteries and GEICO.
American Bass Anglers, Inc. can be contacted @ (256)232-0406 or visit www.AmercanBassAnglers.com