4/23/2018

Jones to Bank 13k from Lake Eufaula OK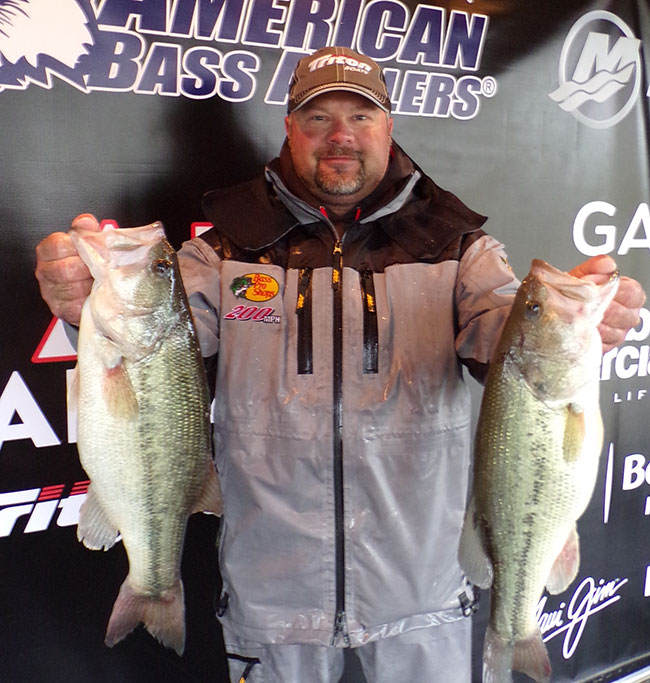 ATHENS, Ala. – Chris Jones of Pocola, OK won the American Bass Anglers Open Series Oklahoma Division, held March 10th on Lake Eufaula.
Running out of Eufaula Cove, warm sunny weather set up the week for yet again, a cold and rainy tournament day. With the water level stabilized but still stained from run off from the week prior, it was a long run for most to find cleaner water. There was a 100% chance of rain for Saturday, so it wasn't a matter of if, but when. It held off until 11:00 AM and never let up.
Nevertheless, Chris Jones had a solid day of fishing landing a five-fish limit for 20.39 lbs. For the boater division victory, Chris took home a guaranteed check for $5000.00 but that wasn't all. He is also a Triton Gold member with his new 2017 Triton Boats 21 TRX which earned him the top award Triton offers for a $7000.00 bonus and $1000.00 from Mercury!
"I fished down south today. I made a pretty good run. I caught my fish on a spinnerbait and a Bayou jig. I think I culled about 4 times, but I had my limit early. I stayed in one little area and just worked it as much as I could. I was able to start the morning off well and finished it up with a little over 20 lbs. I wasn't sure it would win but I knew I had a good chance at it. This is a tough field of anglers and this lake has the fish in it. This is great. I have been running a Triton boat and been a member of Triton Gold since 2001. I'm excited." Said Chris.
In second for the boaters, Lee Sanders of Stillwater, OK, also a Triton Gold member held the lead with his limit of 19.89 lbs for most of the weigh in until getting bumped by Jones. Lee collected a check for $1250.00.
"I caught all my fish flipping a Zoom Z-Craw. I made a long run today. It was worth it though because I had a limit by 8:30. I had between 10 and 15 keepers and the bite was consistent. I didn't have any periods of slow fishing really. I had a solid day on the lake. " Said Lee
Fred Fielder of Vian, OK placed third for the boaters with a limit of five bass weighing 17.12 lbs and took home a check for $900.00
"I made a long run too, I had an area I had found fish in during practice. I had 8 keepers today and I knew there were better fish in there so I stayed with it but I would guess the weather being overcast today and sunny all week leading up to this changed the bite." Said Fielder.
In fourth, Harmon Davis of Marlow, OK had a limit for 16.03 lbs, and Mark Teply of Midwest City, OK came in just behind Brent with another bag of 15.91 lbs to take the fifth-place honors.
In the Co-Angler Division, Marc Barber of Lawton, OK made a statement with a solid limit of 3 fish for 13.88 lbs. Marc had 2 of his fish at 5.99 lbs and 6.15 lbs to anchor his bag. Coming off the water 30 minutes early because of the rain, Marc held the lead throughout the entire weigh in sweating it out with the first limit of fish he had ever brought to the scales. His performance filled his pocket with a check for $1200.00 on the win.
"I had a real good boater today. I only had 3 bites, so I couldn't be happier with the 3 I got. I didn't cull or even catch a short. All 3 of them came on a War Eagle spinnerbait. Just as we were getting ready to head in for the day and call it quits, my boater had put his last rod under the deck when I caught my last fish and it was one of the big ones. It was just my day today." Said Marc
Taking second for the co-anglers was Scott Johnston of Velma, OK. Touching the heels of Marc, Scott took big bass honors for the entire field with his 6.89 kicker and with confidence set himself in 2nd place with a limit for 13.61 lbs. His placement earned him a check for $500.00 and an additional $190.00 for big bass.
"I just kept my head down and stuck with the pattern we had going. We were flipping laydowns and rock piles today. The bite stayed consistent and I was fortunate to get the one real good bite and finish it off with the other 2 solid fish." Stated Scott.
Finishing the day sitting in 3rd place was Jeffrey Mooter of Oklahoma City. He placed by weighing his limit of 11.26 lbs to earn a check for $350.00
"I stuck with one bait today. I caught all my fish on a shakey head. I got my limit in the boat and managed to catch 5 keepers today. I culled twice to get what I had." Stated Jeff.
In fourth place among the co-anglers, Stan Forrester of Westville, OK with 3 fish for 9.29 lbs. Chris Dyer finished the day in 5th place with 7.66 lbs.
The biggest bass for the boaters was caught by William Crittneden weighing 5.89 lbs for $660.00.
Slated for May 12th, the next divisional tournament will be held on Grand Lake launching from Wolf Creek. At the end of the season, the best anglers from across the nation advance to the 2019 Ray Scott Championship, slated for the first week of April 2019 on Lake Eufaula, AL.
For more information on this tournament, call Chris Wayand, tournament manager, at 256-230-5627 or ABA at 256-232-0406. On line, see www.abaopenseries.com .
To learn more about Triton Gold visit Tritionboats.com
About American Bass Anglers: American Bass Anglers is committed to providing low cost, close to home tournaments for the weekend angler and at the same time offer each competitor an upward path for individual angler progression. For more information about American Bass Anglers, the ABA Open Series, the American Fishing Tour or the American Couples Series, visit www.americanbassanglers.com.
American Bass Anglers Inc. is supported by Triton Boats, Mercury Outboards, Geico, Berkley,ABU Garcia, T-H Marine, Livingston Lures, Best Western Hotels, Maui Jim, Garmin, Sirius XM Marine weather and Optima Batteries.
American Bass Anglers can be contacted at (256) 232-0406 or by visiting americanbassanglers.com