9/11/2017

Tripoli wins on Area Championship on
Lake Erie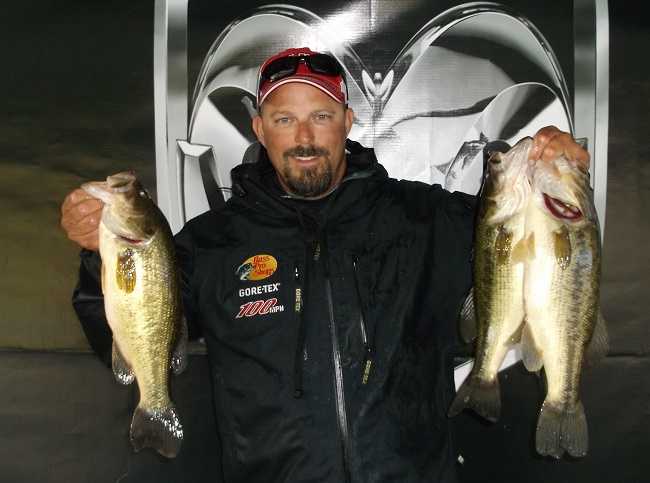 Don Tripoli won the American Bass Anglers Ram Truck Open Series New York / Ohio Area Championship tournament, held September 2nd and 3rd on Lake Erie. Running out of Presque Bay in Erie PA, the Webster NY angler caught 10 bass for the two days weighing 29.43 pounds. He anchored his bag with a 3.68-pound kicker. For the Boater Division victory, Tripoli took home a check for $10,000.
"I fished right out in the bay of the Perry Monument," Tripoli said. "I was fishing 6 to 8 foot of water. Both days I flipped the grass with a Yum Dinger in black. I probably caught 25 fish to day alone."
In second place for the boaters, Chuck Main of Ellwood City PA. landed 10-bass for the two days going 27.78 pounds with a 3.78-pound kicker. He collected $800 for the effort.
"I was flipping a jig and a beaver both days," Main said. "They were both in green pumpkin, the jig was ½ oz. and the beaver was with a 3/8 oz."
Brian R Campbell of Uniontown, PA took third for the boaters with nine bass going 22.62 pounds for the 2 days. He anchored his catch with a 2.70-pound kicker to earn $500.
"I was flipping grass with a beaver in green pumpkin and on day 1 I caught some on a chatter bait in sexy shad," Campbell said.
Finishing fourth, Mike Quinlin of Mooresville IN, landed eight bass for the two days for a total weight of 19.12 pounds including a 2.94-pound kicker. David M Davenport of Milford, Ohio rounded out the top five boaters with 7 bass for the two days at 17.20 pounds topped by a 2.80-pound kicker.
The biggest bass for the boaters was caught by: Eric J Carsten of Reynoldsburg, Ohio that weighed 4.69 pounds and Eric pocketed $350.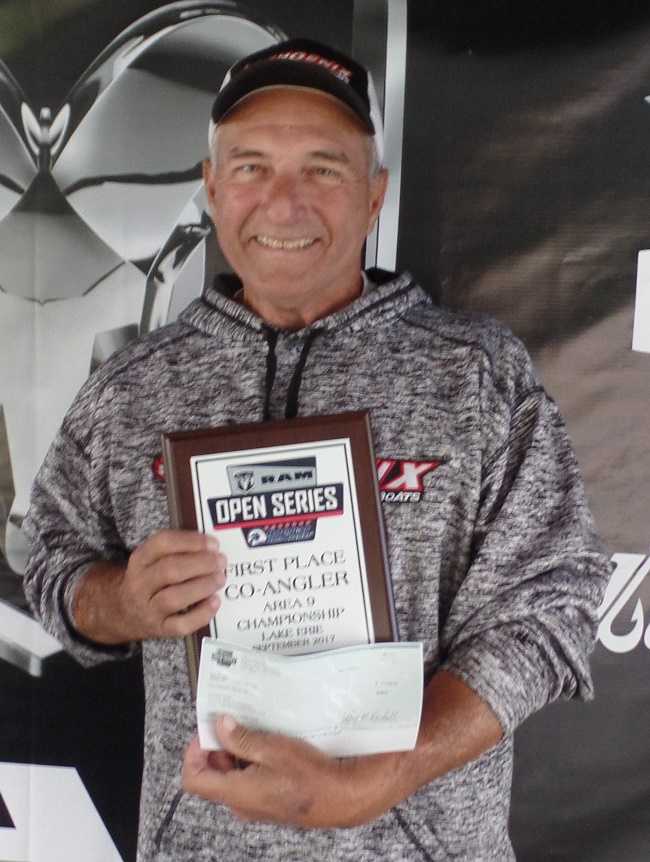 In the Co-Angler Division, Tim Cukovecki of Dayton, Ohio won with six bass for the two days, going 16.58 pounds. He sealed his victory with a 4.11-pound kicker to pocket a check for $5000.
"I was using a Baby Brush hogs in June bug and watermelon red" Cukovecki said.
Taking second for the co-anglers Chad "Buzzy" Buzard, of Delphos, Ohio brought in 4 Bass the two days weighing 8.09 pounds. He collected $400.00 for the effort.
"I was using a Havoc Pit Boss, and I was flipping in the grass." Said Buzard.
Brian E Depto of Kane, PA placed third among the co-anglers with three Bass for the two days that weighed 7.93 pounds. He anchored his catch with a 3.85-pound kicker to earn $200.00.
Depto was unavailable for comment.
In fourth place among the co-anglers, David E. Blankenship of Plattsburg, NY brought back three bass for two days weighing 7.93 pounds including a 3.20-pound kicker. Sudhir Nath of Cheektowaga, Y finished in fifth place with 7.42 pounds.
The biggest bass for the co-anglers was caught by: Scott D Lafaver of Auburn, NY that weighed 4.53 and Scott pocketed $125.00. He also said he caught it on his Revo Reel and he was awarded a new Revo valued at $159.
The next tournament will be the Ray Scott Championship. The best anglers from across the nation advance the 2018 Ray Scott Championship, slated for the Red River in Shreveport-Bossier, Louisiana in April 2018.
For more information on this tournament, call Jeff Randall, tournament manager, at 256-777-6152 or ABA at 256-232-0406. On line, see www.ramopenseries.com .
About American Bass Anglers: American Bass Anglers is committed to providing low cost, close to home tournaments for the weekend angler and at the same time offer each competitor an upward path for individual angler progression. For more information about American Bass Anglers, the Ram Truck Open Series, the American Fishing Tour or the American Couples Series, visit www.americanbassanglers.com.
American Bass Anglers, Inc. is supported by Ram Trucks, Triton Boats, Mercury Outboards, Carlisle Tires, GEICO, Berkley, Abu Garcia, T-H Marine, Livingston Lures, Best Western Hotels, Maui Jim, Power Pole, LiT Coolers, Simms, Garmin, Divide-It, and SiriusXM Marine Weather. American Bass Anglers, Inc. can be contacted at (256) 232-0406 or by visiting americanbassanglers.com