7/11/2017

Miller wins a Tough One on Lake Russell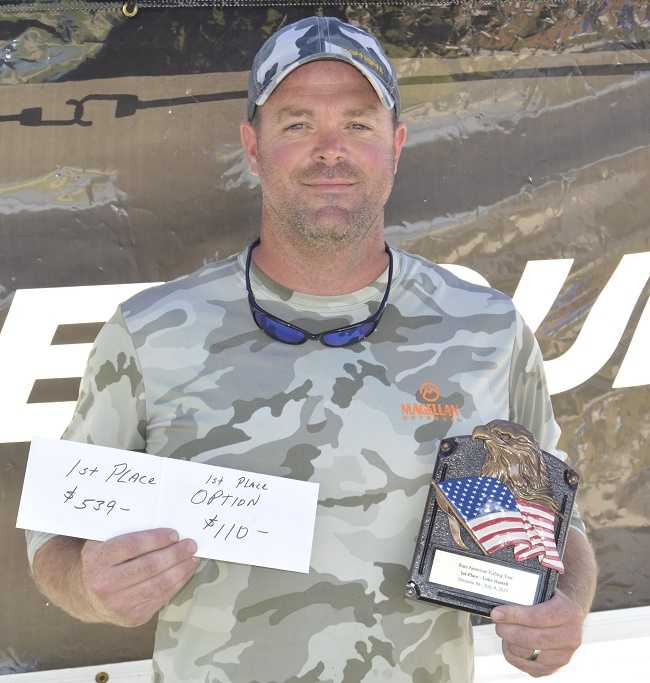 Joey Miller of Waterloo, SC won the Ram American Fishing Tour, presented by American Bass Anglers, South Carolina Division 96 1-day qualifier held July 9, 2017 on Lake Russell running out of the Hwy 72 Ramp near Calhoun Falls, SC.
The day started out at 71 degrees and was at 91 degrees by the 3 pm weigh-in. Partly Cloudy skies with the wind out of the SW at 10 to 15 mph. Lake Russell is at 1 ½ feet below full pool with surface temp in the 80s.
There were 21 anglers fishing this Division 96 1-day qualifier tournament out of the Hwy 72 Ramp near Calhoun Falls, SC.
First place, Joey Miller of Waterloo, SC had 5 fish weighing 9.20 pounds. Joey fished the lower part of the lake and caught his fish on a drop shot rig. Joey took home $649 for first place and first place option.
Eric Edmondson of Gray Court, SC was second with 5 fish weighing 9.09 pounds. He caught all his fish deep cranking on the mid lake area. Eric won $387 for second place and second place option on day one.
Third place was Kevin Bragg of Laurens, SC with 5 fish weighing 8.16 pounds. Kevin took home $101 for third place.
In fourth place was Andy Lake of Batesburg, SC with 2 fish weighing 6.37 pounds. Andy also took the ALX Rod Big Fish with a 3.86 pound largemouth caught on a Strike King 6XD crankbait in about 15 feet of water on the middle part of the lake. He won $177 for fourth place and big fish.
Fishing was tough as indicated by the weights and 5 fish limits caught. The lake had dropped that 1 ½ feet since Friday and may be the reason of the low numbers caught. Most productive lures for this one were crankbaits, drop shot rigs, shakey heads and spoons.

Top 5 finishers:
1 – Joey Miller - 5 fish 26.82 pounds 200 points
2 – Eric Edmondson – 5 fish 9.09 pounds 199 points
3 – Kevin Bragg – 5 fish 8.16 pounds 198 points
4 – Andy Lake – 2 fish 6.37 pounds 197 points
5 – Rodney 'Krowbar' Cromer – 5 fish 6.30 pounds 196 points

These anglers are qualifying to compete in the 2018 Ram AFT National Championship on a date and lake to be announced at the 2017 Ram National Championship being held on the Ouachita River, Monroe La. in October 2017.
The next Division 96 tournament for Division 96 will be on Lake Murray, August 20, 2017.
For more information, contact D-96 Director Phil Morris at 864-993-0346; email plmorrisd96@gmail.com or call ABA at (256) 232-0406. On-line, see www.americanbassanglers.com or www.aba-sc.com for complete results. Also check out our facebook page at D-96 American Fishing Tour.
These anglers are earning valuable points toward the divisional angler of the year title. The points champion from each division will compete in the annual Ram American Bass Anglers AFT Angler of the Year Final Round at the Ram American Fishing Tour National Championship.
The Ram American Fishing Tour offers low cost, close to home bass tournaments that are designed for the weekend angler. All ABA anglers fish for money and points. The points advance the angler to their divisional championship and the top 500 anglers in the US are invited to the Ram American Fishing Tour National Championship. For more information on American Bass Anglers please visit www.americanbassanglers.com or call (256)232-0406.
American Bass Anglers, Inc. is supported by Ram Trucks, Triton Boats, Mercury Outboards, Carlisle Tires, GEICO, Berkley, Abu Garcia, T-H Marine, Livingston Lures, Best Western Hotels, Maui Jim, Power Pole, LiT Coolers, Simms, Garmin, and Divide-It. American Bass Anglers, Inc. can be contacted at (256) 232-0406 or by visiting americanbassanglers.com