6/26/2017

AFT D-96 Annual Bring-A-Youth Bass Tournament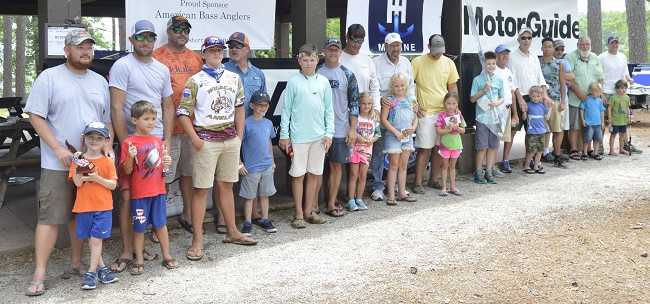 We had fourteen teams fish this year at the 3rd Annual D-96 Bring-A-Youth Bass Tournament. This special event was held on Lake Greenwood - June 24, 2017.
Blasting of from Lake Greenwood State Park, ten teams weighed in fish, but all our young anglers were winners. Awards, door prizes and pizza followed the weigh-in, provided by American Bass Anglers, Level Performance Rods, Palmetto Electrical Systems, Kneece Investigations, Gene Parker Baits, ALX Rods, Antler Road Online store and AFT Division 96.
Here's how the top 5 finished:
1st place – Colton Abbott and his Dad, Shane Abbott with 5 fish at 11.06 pounds.
2nd place – Bryson Jones and his Dad, Brian Jones with 3 fish at 8.79 pounds, which included Bryson's tournament big fish of 5.61pounds.
3rd place – Austin Wood and his Stepdad, Bill Cain with 3 fish at 7.33 pounds. Austin's kicker fish was a 2.58 pound largemouth.
4th place – Owen Satterwhite and his Dad, James Satterwhite with 3 fish at 6.94 pounds. Owen's kicker fish was a 4.50 pound largemouth.
5th place – Jacob Marcum and friend, David Griswold with 3 fish at 6.24 pounds.
Many more photos are on our facebook page, 'D-96 American Fishing Tour', so check them out. The results will also be available on our local web site ABA-SC.com.
For more information, contact D-96 Director Phil Morris at 864-993-0346; email plmorrisd96@gmail.com or call ABA at (256) 232-0406. On-line, see www.americanbassanglers.com or www.aba-sc.com for complete results. Also check out our facebook page at D-96 American Fishing Tour.
The American Fishing Tour offers low cost, close to home bass tournaments that are designed for the weekend angler. All ABA anglers fish for money and points. The points advance the angler to their divisional championship and the top 500 anglers in the US are invited to the American Fishing Tour National Championship.
American Bass Anglers, Inc. is supported by Ram Trucks, Triton Boats, Mercury Outboards, Carlisle Tires, GEICO, Berkley, Abu Garcia, T-H Marine, Livingston Lures, Best Western Hotels, Maui Jim, Power Pole, LiT Coolers, Simms, Garmin, and Divide-It. American Bass Anglers, Inc. can be contacted at (256) 232-0406 or by visiting americanbassanglers.com