6/12/2017

Jim Coleman wins at Mashpee/Wakeby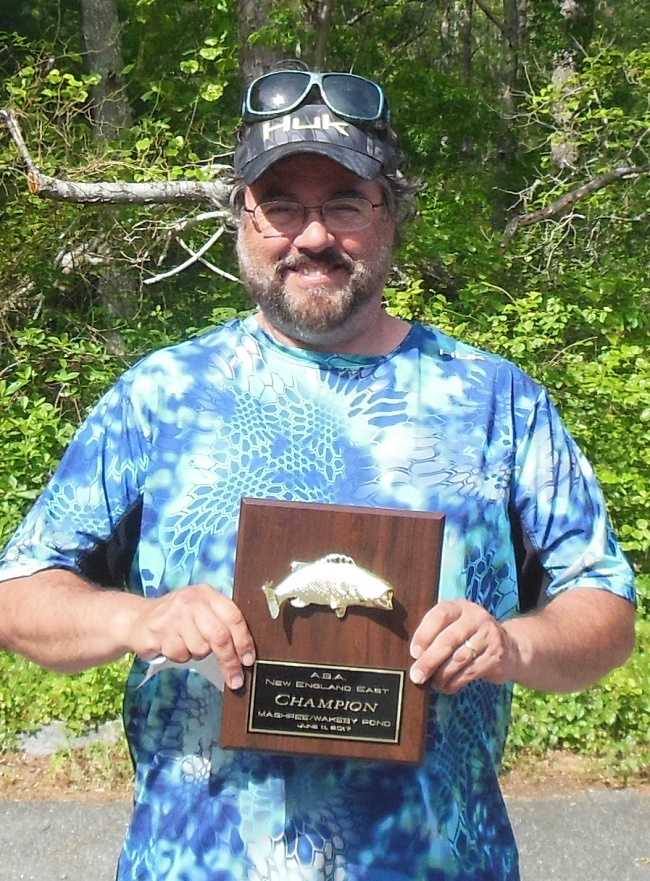 On Sunday, June 11, 2017 ABA AFT Division 5 ventured out on Mashpee/Wakeby Pond near Mashpee, MA. We had air temps in the mid 80s, with a mild SSW wind and Sunny skies. The spawn was about over but some some stragglers were protecting their nests.
When the scales were closed Jim Coleman, of Bridgewater, MA was crowned the Champion with a limit bag that tipped the scales at 11.77 lbs. Jim targeted his fish with a Bass Pro Shops "Stik-O" lime colored bait and he drop shot the bait and caught 4 smallmouths and anchored his bag with a 3.50 lbs. largemouth bass and he culled out 4 fish. This was Jim's 3rd time in the winner's circle and we congratulate him for his accomplishment.
The big bass for the tournament was a 5.81 largemouth and was caught by Louie Bernardo.
The top 5 anglers were:
1st place: Jim Coleman - 5 fish - 11.77 lbs.
2nd place: Eli Delany - 5 fish - 11.10 lbs.
3rd place: Dan Rose - 5 fish - 10.76 lbs.
4th place: Jay Guidaboni - 5 fish - 10.72 lbs.
5th place: Louie Bernardo - 3 fish - 9.52 lbs.
Our next tournament will be at Long Pond, Lakeville, MA on Sunday, July 9, 2017
For more information on this event please contact director, Jay Guidaboni at basserjay@verizon.net or by phone at 781-831-5804
These anglers are earning valuable points toward the divisional angler of the year title. The points champion from each division will compete in the annual Ram American Bass Anglers AFT Angler of the Year Final Round at the Ram American Fishing Tour National Championship.

The Ram American Fishing Tour offers low cost, close to home bass tournaments that are designed for the weekend angler. All ABA anglers fish for money and points. The points advance the angler to their divisional championship and the top 500 anglers in the US are invited to the Ram American Fishing Tour National Championship. For more information on American Bass Anglers please visit www.americanbassanglers.com or call (256)232-0406
American Bass Anglers, Inc. is supported by Ram Trucks, Triton Boats, Mercury Outboards, Carlisle Tires, GEICO, Berkley, Abu Garcia, T-H Marine, Livingston Lures, Best Western Hotels, Maui Jim, Power Pole, LiT Coolers, Simms, Garmin, and Divide-It. American Bass Anglers, Inc. can be contacted at (256) 232-0406 or by visiting americanbassanglers.com