6/05/2017

Singleton & Caldwell Take Second TOT Victory in Three Years
Gary Singleton and Johnathon Caldwell have claimed their second Triton Owner's Tournament victory over the past three years with a total of 33.12 pounds winning the $10,000 grand prize. The team previously claimed the victory in the 2015 TOT event and this is the fifteenth TOT event that Singleton has participated in. The pair were also awarded a new set of tires and wheels from Carlisle Tire and Wheel. Singleton and Caldwell targeted main river ledges in 7-10 feet of water using a D-Boss crankbait along with Keitech and Big hammer swimbaits.
"We located fish in a couple of different areas down south and we relied heavily on three different spots. Our winning fish came off of a spot that my partner, Johnathon Caldwell, found during practice. We culled out our entire limit on his spot on the final day. On the first day, we probably caught 40 fish and only 20 on the second day, but better quality. I would like to thank Triton Boats for having the event each year and American Bass Anglers for doing such an awesome job of the event operation," said Singleton.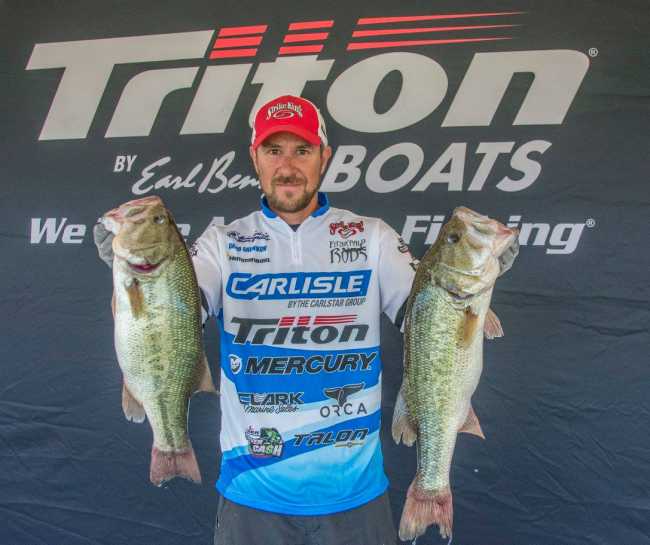 Second place in the 2017 Triton Owner's Tournament went to the team of David Gnewikow and Kevin Woodside. Their two-day total of 32.92 pounds earned the team a check for $5000. Gnewikow and Woodside targeted shallow ledges around the Paris Landing area and the majority of their fish were caught in 12-15 feet of water on a Strike King 6XD in chartreuse sexy shad color and a drop-shotted Strike King finesse worm. Gnewikow has been part of the winning teams in the 2009 and 2013 Triton Owner's Tournaments. This makes 12 TOT events for Gnewikow.
"We caught our fish using a Strike King 6XD. The schools we targeted were not very large and after 5-6 fish the school would shut down. After that we would use a 7" Strike King finesse worm on a drop-shot. The Triton Owner's Tournament is an incredibly smoothly ran event, especially with 400 boats involved," said Gnewikow.
The team of Chris Larkins and Larry Hastings finished in the third place spot with a total of 32.01 pounds winning $4500. This was the team's third TOT event and they targeted secondary creek channels in the Paris Landing area using Zoom Mag Shakey Head Worms in plum color.
"We fished really clean and only broke off one fish on the second day. The Triton Owner's Tournament is a great event and the most well organized tournament that we have ever fished," said Larkins.
The team of Jason and Nicholas Dotson brought in the 9.15 pound big bass of the event to claim the $3000 Big Bass prize. This was the first Triton Owner's event that the Dotson's have attended and the lunker was a new personal best for young Nicholas. The monster Kentucky Lake bass was caught on a shallow ledge in Richland Creek using a ¾ ounce Denny Brauer Structure Jig in green pumpkin color.
"We were fishing a creek ledge close to a rock wall that was holding a school of big fish. This was my personal best catch and this was the first year that we have fished this event. It was a really cool experience and I'm glad that I had the opportunity to fish it with my Dad," said Nicholas Dotson.
The tournament payout totaled $80,000 and checks were awarded all the way down to the 80th place team. Complete results from the 2017 event are available at this link.
The event began on the evening of Thursday, May 31st. The anglers were treated to dinner prior to the tournament briefing at Paris Landing State Park. Each team received a welcome bag that included an event shirt and hat, along with products from industry sponsors such as Strike King, Vicious Fishing, Star Tron, Power Pole, T-H Marine, and more. Event sponsors provided thousands of dollars in product that was raffled off at the briefing. Prizes included products from Triton Apparel, Bass Pro Shops, Mercury Marine, Costa, Lowrance, Duckett Fishing, T-H Marine, Power Pole, Lit Coolers, Carlisle Tire and Wheel, and more.
Each morning, the anglers were treated to sausage biscuits and coffee by the Triton Boats staff during boat check. The Paris Landing State Park crew did an excellent job getting 400 Triton Boats in and out of the water efficiently each day.
The entire Triton Boats staff was on hand to enjoy the event with the Triton Boat owners. Anglers were greeted each day by Earl Bentz, founder of Triton Boats, as they approached the bump tank at the end of the weigh in line. "It never ceases to amaze me at how many Triton owners make the trip to the Triton Owner's Tournament year after year. I look forward to seeing everyone again at the 2018 event," said Bentz.
After the final weigh-in was completed, there were more raffle prizes awarded, including a bike raffle for children of the tournament anglers. The grand raffle prize was a brand new Triton 21 TrX boat powered by a 250 Mercury Pro XS outboard with Lowrance electronics, a Power Pole, and T-H Marine products valued at $70,000. First time competitor Johnny Brantley of Medon, TN won the boat raffle. He was presented his new boat by Earl Bentz himself.
"It was a shock for my name to be picked as one of the first 10 names and even more shocking that I actually won the boat. I can't wait to use my new Triton. The event was great and we very much enjoyed our trip. It was a well ran event considering there were 400 boats involved. I'll definitely be back next year," said Brantley.
The 2018 Triton Owner's Tournament will be held on May 31st - June 2nd, 2018 at Kentucky Lake and launching from Paris Landing State Park. More information will soon be available for the 2018 event at www.tritonboats.com.