4/28/2017

Burchill Takes Win on South Watuppa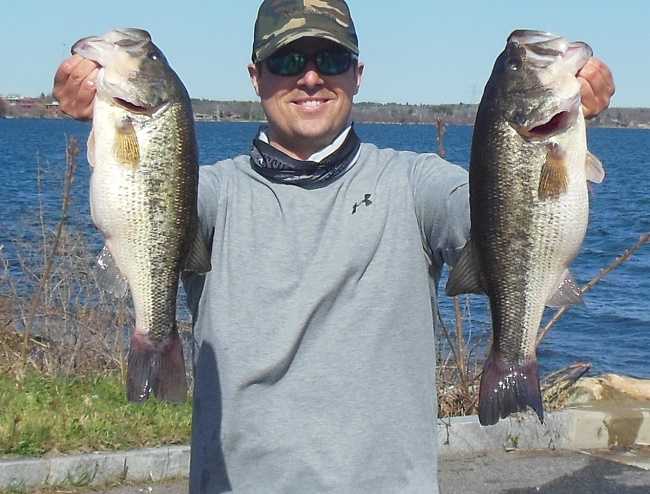 Joe Burchill of Upton, MA took first place in the first event for AFT D5, held on April 23rd going out of South Watuppa Pond.
Joe was crowned the champion after weighing in an impressive five fish limit at 16.66 pounds. Joe caught his fish on BICO natural crayfish Jigs tipped w/Strike King Rage Craw trailers. He said he had a blast and culled out several times. Joe had the big bass of the at 5.93 pounds. Our congrats to Joe for doing a super job and was awarded a total of $700 for winning the event.
We also welcomed, Dave Cioppa, Josh Cotier, Matt Lucas, and Bryon Waddell to our ranks, along with new sponsors,Fishin' With a Mission -My Little Buddys Boat and Medeiros Financial Services.
It was a cool April morning with air temps in the high 50's with sunny skies and a brisk southernly wind. 23 anglers ventured out on South Watuppa Pond, Fall River, MA.
It was a tough bite for most but, those that found the right pattern brought in some nice bags at the weigh-in.
A total of 84 bass were weighed in w/a combined weight of 169 lbs. for an average weight per fish at 2.01 pounds.
Top Five Finishers:
1. Joe Burchill 16.66 lbs
2. William Wright Jr 13.29 lbs
3. Bryon Waddell 12.51 lbs
4. Steven Peck 10.77 lbs
5. Eric Johnson 10.65 lbs
The next event for this division will be at Long Pond, Sunday May 7, 2017.
These anglers are earning valuable points toward the divisional angler of the year title. The points champion from each division will compete in the annual Ram American Bass Anglers AFT Angler of the Year Final Round at the Ram American Fishing Tour National Championship.
The Ram American Fishing Tour offers low cost, close to home bass tournaments that are designed for the weekend angler. All ABA anglers fish for money and points. The points advance the angler to their divisional championship and the top 500 anglers in the US are invited to the Ram American Fishing Tour National Championship. For more information on American Bass Anglers, visit our website www.americanbassanglers.com or call (256)232-0406.
American Bass Anglers, Inc. is supported by Ram Trucks, Triton Boats, Mercury Outboards, Carlisle Tires, GEICO, Berkley, Abu Garcia, T-H Marine, Livingston Lures, Best Western Hotels, Maui Jim, Power Pole, LiT Coolers, Simms, Garmin, and Divide-It. American Bass Anglers, Inc. can be contacted at (256) 232-0406 or by visiting americanbassanglers.com