4/24/2017

Pedigo Tops the Field at Ft. Gibson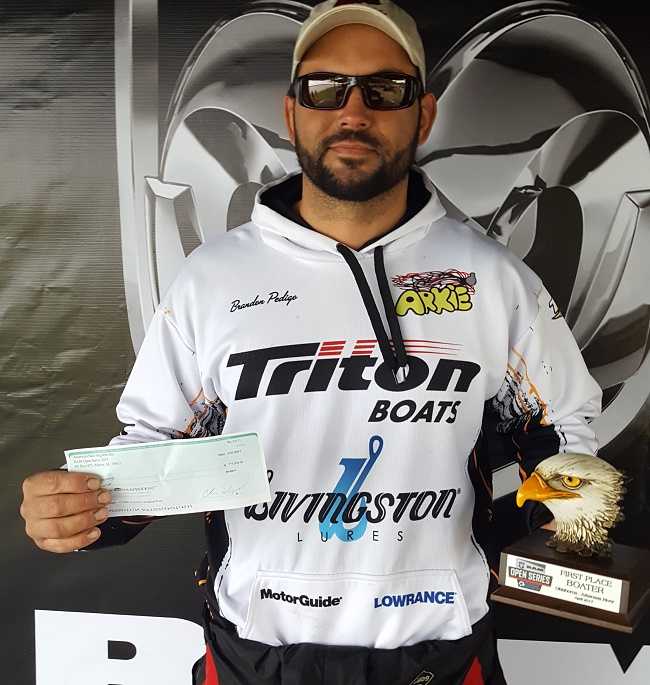 Brandon Pedigo won the American Bass Anglers Ram Truck Open Series Oklahoma event held April 22nd on Ft. Gibson Reservoir.
Running out of Taylor's Ferry North near Wagoner OK, the Lawton, OK angler caught five bass weighing 13.34 pounds. The tournament originally scheduled for the Arkansas River was moved to Ft Gibson on Friday morning due to dangerously high waters from a recent storm that passed through the area. The rain subsided for Saturday and for the Boater Division victory, Pedigo took home a check for $5,000.
"What a day," Pedigo said. "This weather changed everything. The bite was a brutal day. Cold, windy, just brutal. My Coangler had his limit by 9 o'clock. I was trying to force feed them a frog and only got one bite on it and ended up flipping the rest of them. I finally finshed out my limit around noon. I only had 5 bites and luckily all 5 were keepers. One of them I had to flip over to make her touch 14 and that's the one that did it for me."
In second for the boaters, Josh Teply of Harrah, OK landed two bass that weighed in at 9.98 pounds. He collected $1,400 for the effort.
"I tell you what, I was all over this lake today. I ran all the way up the river, all the way to 14 mile, and ended up catching these 2 fish straight across the lake with about 30 minutes to go. I left them biting and may have been able to do something with a little more time but that's fishing." Teply said.
Tom Nilssen of Perry, OK finished third for the boaters with three bass going 9.96 pounds, just .02 oz behind the 2nd place finisher to earn $950.
"I froze all day! There really isn't much to talk about. I caught 2 fish early down by paradise, and I caught my last fish across the lake here about an hour before weigh in. It was a long cold day. No other bites, just those 3, I got them in the boat and that was it. They were all keepers." Nilssen said.
Finishing fourth, Lee Sanders of Stillwater, OK landed three bass for 9.73 pounds.
Craig Sampson of Chelsea, OK rounded out the top five boaters with three bass weighing in at 9.23 pounds.
The biggest bass for the boaters was caught by Brandon Linney of Tahlequah, OK locking in at 6.05 pounds. Brandon took home a check for $700 for his fish and the Abu Garcia Big Bass award for catching the biggest bass of the tournament. Brandon was the recipient of an Abu Garcia Revo SX.
In the Co-Angler Division, Corey Wiseman of Broken Arrow, OK won with two bass weighing 7.17 pounds. He sealed his victory with a 4.10-pound kicker to pocket a check for $1,200.
"I only had 2 bites. I caught one early and the other later in the afternoon. We started all the way up the river and ended up going all the way down to the dam. I did break one off at the end of the day but the best thing is I can go home knowing it wasn't the fish that would have won the tournament. I am very fortunate." Wiseman said.
Taking second for the co-anglers, Stan Forrester of Westville, OK brought in a three-bass limit weighing 7.12 pounds. He collected $400 for the effort.
"It was rough. I caught 3 fish all day and everything I caught I kept. I had all three of them by 9 o'clock and that was it. We rode around for the next 6 hours trying everything we could but nothing else happened. It made for a long day but I'm happy to be here." Forrester said.
Mike Beus of Ozark, MO placed third among the co-anglers with three bass weighing 6.62 pounds to earn $350.
"Very difficult. I didn't catch my first bass until 1 o'clock. We went to a gravel point, threw a wobble head and they were there. I was not able to cull any but I did get 3 keepers and that was it," Beus said.
In fourth place among the co-anglers, Al Longoria of Pottsboro, TX brought in two bass for 6.49.
Derrick Kinight of Durant, OK finished in fifth place with two bass at 6.26 pounds.
The biggest bass for the co-anglers was caught by Corey Wiseman of Broken Arrow, OK that weighed 4.10 pounds. Corey pocketed an extra $180 for his fish.
Slated for May 6th, the next divisional tournament will be held on Lake Eufaula out of Eufaula Cove South near Eufaul, OK. At the end of the season, the best anglers from across the nation advance the 2018 Ray Scott Championship, slated for the Red River in Bossier City, LA.

For more information on this tournament, call Chris Wayand, tournament manager, at 256-230-5627 or ABA at 256-232-0406. On line, see www.ramopenseries.com .
About American Bass Anglers: American Bass Anglers is committed to providing low cost, close to home tournaments for the weekend angler and at the same time offer each competitor an upward path for individual angler progression. For more information about American Bass Anglers, the Ram Truck Open Series, the American Fishing Tour or the American Couples Series, visit www.americanbassanglers.com.
American Bass Anglers, Inc. is supported by Ram Trucks, Triton Boats, Mercury Outboards, Carlisle Tires, GEICO, Berkley, Abu Garcia, T-H Marine, Livingston Lures, Best Western Hotels, Maui Jim, Power Pole, LiT Coolers, Simms, Garmin, and Divide-It. American Bass Anglers, Inc. can be contacted at (256) 232-0406 or by visiting americanbassanglers.com