3/20/2017

Wall Wins on Badin Lake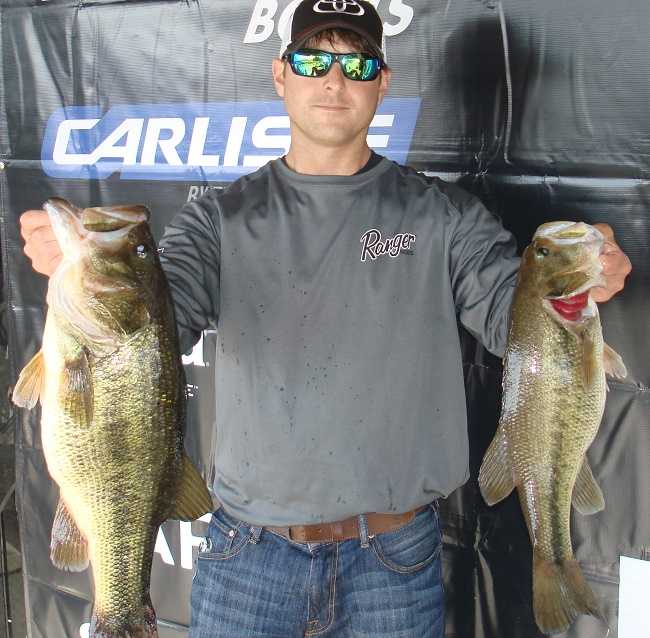 James Wall of Greensboro, North Carolina won the American Bass Anglers Ram Truck Open Series North Carolina division tournament held 3/18/2017 on Badin Lake.
Running out of the Alcoa Landing in Badin, North Carolina, James caught five bass weighing 17.40 pounds. He anchored his bag with a 7.72 pound kicker. For the Boater division victory, Wall took home a check for $5,000.
"I caught my fish, fishing shallow points with grass using a jig and a chatterbait," said Wall.
In second for the Boaters, Chad Poteat of Mt. Airy, North Carolina landed a five bass tournament limit going 16.99 pounds with a 4.44 pound kicker. He collected $1,050 for the effort. "I caught my fish early on a Zoom Crankbait. I had 8 bites all day," state Poteat.
Bryan New of Belmont North, Carolina took third for the Boaters with five bass weighing 16.70 pounds. His limit earned him $800. "I caught my fish just junk fishing said New. I caught them offshore and I caught them on the bank. They bit good early but the bite stopped for me around 10:00 am," stated New.
Finishing fourth, Travis Williams of Salisbury, North Carolina landed a five bass limit for 16.09 pounds.
Kelly Logan from Morganton, North Carolina rounded out the top five Boaters with five bass at 15.48 pounds.
The biggest bass for the Boaters was caught by Robert Walser of Lexington, North Carolina. His monster bass weighed in at 10.63 pounds. The big bass earned Walser an additional $595. Being the big bass of the tournament Walser also won an ABU Garcia SX reel valued at $160 for catching the bass using an ABU Garcia reel.
In the Co-Angler division, Martin Rushing of Midland, North Carolina won with three bass going 11.10 pounds. He sealed his victory with a 4.33 pound kicker to pocket a check for $1,200.
"I caught most of my fish early fishing deep rocks with a crankbait," Rushing stated.
Taking second for the Co-Anglers, Chet Beam from Shelby, North Carolina brought in a three-bass division limit weighing 9.48 pounds. He collected $500 for the effort. "I happened to be paired with the winning boater and he was a good partner. I caught my early fish on a senko and a crankbait. I caught some fish later in the day on a jig," said Beam.
John Harris of Lexington, North Carolina placed third among the Co-Anglers with three bass going 9.04 pounds. He anchored his catch with a 3.22 pound kicker to earn $350. "I caught my fish using a shakeyhead with a finesse worm around rocks," said Harris.
In fourth place among the Co-Anglers, Aaron Digh of Denver, North Carolina weighed in three bass weighing 7.37 pounds.
James Salloum of Waxhaw, North Carolina finished in fifth place with three bass at 7.21 pounds.
The biggest bass for the Co-Anglers was caught by Martin Rushing of Midland, North Carolina and weighed 4.33 pounds. Rushing collected an additional $195.
Slated for 05/06/2017 the next divisional tournament will be held on Lake Wylie out of the South Point access located in Belmont North Carolina. At the end of the season, the best anglers from across the nation advance the 2018 Ray Scott Championship, slated for the Red River in Shreveport-Bossier Louisiana in April 2018.
For more information on this tournament, call Rodney Michael, tournament manager, at 256-497-0967 or ABA at 256-232-0406. On line, see www.ramopenseries.com.
About American Bass Anglers: American Bass Anglers is committed to providing low cost, close to home tournaments for the weekend angler and at the same time offer each competitor an upward path for individual angler progression. For more information about American Bass Anglers, the Ram Truck Open Series, the American Fishing Tour or the American Couples Series, visit www.americanbassanglers.com.
American Bass Anglers, Inc. is supported by Ram Trucks, Triton Boats, Mercury Outboards, Carlisle Tires, GEICO, Berkley, Abu Garcia, T-H Marine, Livingston Lures, Best Western Hotels, Maui Jim, Power Pole, LiT Coolers, Simms, Garmin, and Divide-It. American Bass Anglers, Inc. can be contacted at (256) 232-0406 or by visiting americanbassanglers.com