3/13/2017

Cooper Tames Bayou Black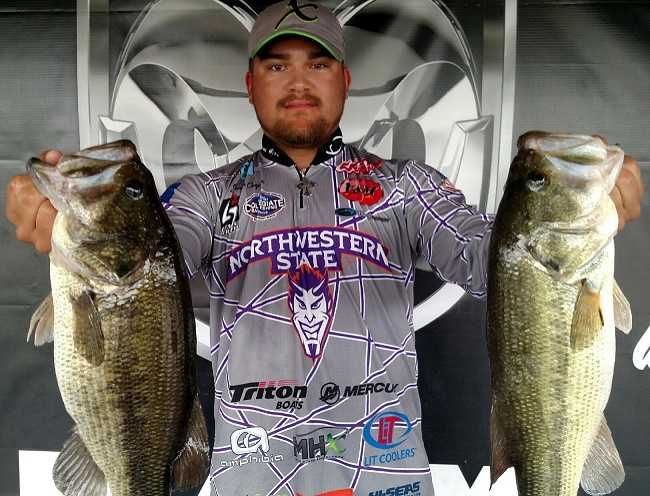 Justin "Coop" Cooper of Pelican, Louisiana won the American Bass Anglers Ram Truck Open Series Louisiana division tournament, held March 11th on Bayou Black.
Running out of Bob's Bayou Black Marina near Gibson, Louisiana, Justin caught an awesome five fish limit weighing 18.86 pounds. For the Bayou, this can only happen this time of year as the fishing is good, but rarely yields a limit of this size. For the Boater division victory, Cooper took home a check for $5000.
"I really didn't expect to catch them like this. I made a long run and the area is pretty new to me. I caught a lot of fish today and didn't know it held quality fish like this. I made a very crucial cull with just minutes to go to finish out the day. I was expecting 13 or 14 lbs to be able to cut a check but this was amazing. All my fish came on a V&M Pacemaker Jig in Sneaky Snake color. The rod I used was a MHX built by Rick's Custom Rods. My 2017 Triton powered by the Mercury 250 Pro XS never let me down and I put it to the test today. It was a long run, I caught a bunch of fish, and all the cards fell in my hands." Cooper said. Justin is also a Triton Gold Member and earned himself a $500.00 bonus for winning the event, $1,000 from Mercury Outboards, and $500 from Motor Guide Trolling Motors.
In second for the Boaters, Caleb Sumrall of New Iberia, Louisiana landed a five-bass limit weighing 17.39 pounds. Another very good limit of fish for the Bayou. His bag was anchored by a 4.59 pound kicker. He collected $500 for the effort. "I'll say that I was way West of here. It was a long run, I caught a bunch of fish, but I just couldn't get those 3+ pound fish to bite often enough. I was junk fishing. I caught some on a frog, some on a jig, a spinnerbait, and flipped some timber too. It was a good day on the water." Sumrall said.
Jake DeWeese of Bossier City, Louisiana took third for the Boaters with five bass going 14.75 pounds to earn $300. "I did get some practice in this week and made one heck of a long run. It paid off and I caught 80-90 fish today but I let the big one get away. She had a head on her too. I don't want to guess how big she was but it definitely would have made a difference in my bag." said DeWeese.
In fourth, Billy Graves of Montgomery, Louisiana came in with 14.74 pounds.
Finishing 5th Darren Hernandez of Marrero, Louisiana with 14.15 pounds.
The biggest bass for the Boaters was caught by Kenny Waldrop of Luling, Louisiana that weighed 5.12 pounds. Waldrop pocketed $320.
In the Co-Angler division, Randy Keating of Plano, Texas is no stranger as he is the defending LA Division AOY from 2016. Randy had three bass weigh in at 10.03 pounds. He anchored his bag with a bass weighing 3.67 pounds to pocket a check for $850.
"I had a great partner again today. Billy Graves and I happened to get paired together on Toledo Bend so it was an easy fit for the both of us and we had a great time. We caught a lot of fish and I managed to cull a couple to get to the 10 pounds I brought in." Keating said. I'm very happy to get this win."
Taking second for the Co-Anglers, Boo Grizzaffi, of Morgan City, Louisiana brought in a three-bass limit weighing 7.98 pounds.He collected $250 for the effort. "I had a lot of fun today. Any day I can get out on the water is a good day. The fishing is good right now and I had a great partner today. I caught quite a few and culled up to my 3 that I brought in." Grazzaffi said." Boo Grizzaffi just happens to be the Mayor of Morgan City where the event was hosted by Cajun Coast Visitors and Convention Bureau. We thank you for you support Mayor.
Jeff Cox of Walker, Louisiana placed third among the Co-Anglers with three bass going 9.26 pounds to earn $200. "We started in pigeon, my boater caught a ton of fish and I struggled all day to get my limit. I finally caught my last keeper just before we came in right outside the mouth of the bayou." Cox said.
In fourth place among the Co-Anglers, Justin Bailey brought in three bass for 7.79 and Jerried Bailey finished in fifth place with three bass at 7.46 pounds. Both anglers are from Farmerville, Louisiana.
The biggest bass for the co-anglers was caught by Randy Keating at 3.67 pounds. Randy took home another check for $155. for his fish.
Slated for April 29th, the next divisional tournament will be held on Black Lake Campti, launching from Chandlers Camp, near Campti, LA. At the end of the season, the best anglers from across the nation advance to the Ray Scott Championship, slated for April of 2018 on the Red River in Bossier City, LA.
For more information on this tournament, call Chris Wayand, tournament manager, at (256)230-5627 or ABA at (256)232-0406. On line, see www.ramopenseries.com.
About American Bass Anglers: American Bass Anglers is committed to providing low cost, close to home tournaments for the weekend angler and at the same time offer each competitor an upward path for individual angler progression. For more information about American Bass Anglers, the Ram Truck Open Series, the American Fishing Tour or the American Couples Series, visit www.americanbassanglers.com.
American Bass Anglers, Inc. is supported by Ram Trucks, Triton Boats, Mercury Outboards, Carlisle Tires, GEICO, Berkley, Abu Garcia, T-H Marine, Livingston Lures, Best Western Hotels, Maui Jim, Power Pole, LiT Coolers, Simms, Garmin, and Divide-It. American Bass Anglers, Inc. can be contacted at (256) 232-0406 or by visiting americanbassanglers.com