3/07/2017

McMahan Takes Home $5,000 on Guntersville
Kevin McMahan of Guntersville, Alabama won the American Bass Anglers Ram Truck Open Series Alabama North tournament, held March 5, 2017 at Lake Guntersville. Running out of Goose Pond in Scottsboro, Alabama, McMahan caught five bass weighing 27.43 pounds. He had a 7.46 pound kicker to anchor his bag and took home $5,000 for his efforts.
"I caught my fish deep. I was fishing anywhere from 25-35 feet of water. I threw a 8 inch swimbait. They bite the swimbait better in the morning when it was cloudy. Once they stopped biting the swimbait I went shallow and didn't really catch anything that helped my bag," McMahan stated.
In second for the Boaters, James Parkinson of Dalton, Georgia landed a five-bass tournament limit going 20.67 pounds. He collected $1,760 for the effort. "I caught most of my fish today using a red rattle trap. I make a shad colored chatterbait and was able to catch a few fish on with it. I stayed shallow all day and stayed around ditches," stated Parkinson.
Randy Henson of Rogersville, Alabama took third for the Boaters with five bass going 18.66 pounds. He anchored his catch with a 5.27-pound kicker earning $1170 for his efforts. "I threw a rayburn red rattle trap and a royal shad rattle trap all day long. I caught every one of my fish today in less the 3.5 feet of water," stated Henson.

Finishing fourth, Derek Remitz of Grant, Alabama landed a five-bass limit for 17.01 pounds.
Casey Martin of New Hope, Alabama rounded out the top five boaters with five bass at 16.96 pounds.
The biggest bass for the Boaters was caught by Harry Peyton that weighed 8.28 pounds and pocketed $920. He also took home a new Abu Garcia spinning reel for catching the biggest bass of the event using a Abu Garcia reel.
In the Co-Angler division, Craig Young of Attalla, Alabama won with three bass going 12.89 pounds. He sealed his victory with a 6.82-pound kicker to pocket a check for $1,800.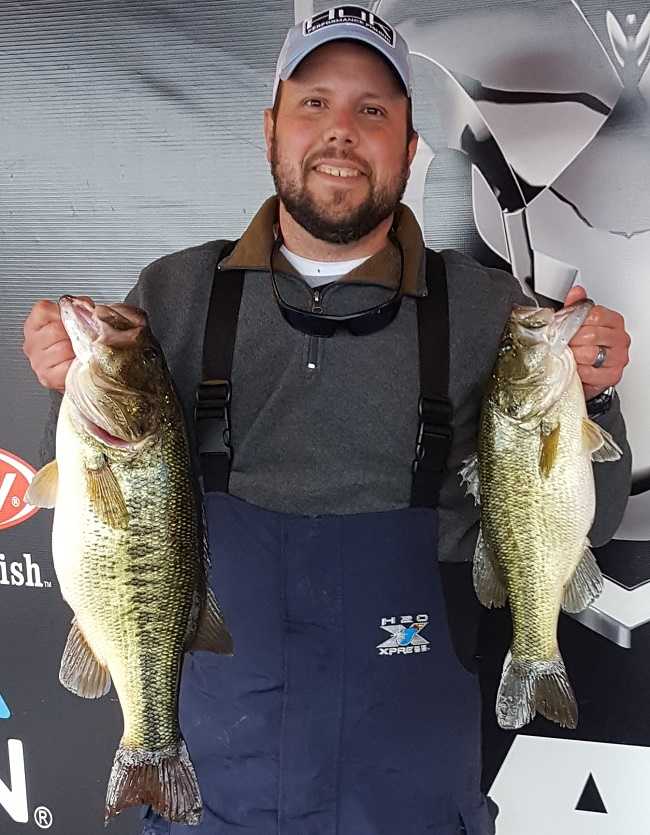 "I swapped between throwing a rattle trap and a chatterbait in the grass. We fished mostly shallow water and I was able to cull a few times," stated Young.
Taking second for the Co-Anglers, Mike Gibson of Gadsden, Alabama. He brought in a three-bass division limit weighing 11.78 pounds. He collected $600 for the effort. "I used a swimbait today. I fished the swimbait slow in shallow water. I was able to catch fish all day long using this method," stated Gibson.
Nathan Blalock of Kingston, Georgia placed third among the co-anglers with three bass going 11.08 pounds. He anchored his catch with a 5.74-pound kicker to earn $450. "I caught my fish using a XR 75 red rayburn color rattle trap. I caught all of my fish on this today. I caught them shallow. We went deep later on in the day but I did not catch any keepers," stated Blalock.
In fourth place among the Co-Anglers, Stephen Barday of Acworth, Georgia brought in three bass for 10.89 pounds including a 6.17-pound kicker.
David Perron of Dayton, Tennessee finished in fifth place with three bass at 9.77 pounds topped by a 4.70-pound kicker.
The biggest bass for the Co-Anglers was caught by Craig Young that weighed 6.82 and pocketed $325.
Slated for May 6, 2017 the next divisional tournament will be held on Neely Henry out of Coosa Landing in Gadsden, AL. At the end of the season, the best anglers from across the nation advance the 2018 Ray Scott Championship.
For more information on this tournament, call Kristin Malott, tournament manager, at (256)771-3709 or ABA at (256)232-0406. On line, see www.ramopenseries.com .
About American Bass Anglers: American Bass Anglers is committed to providing low cost, close to home tournaments for the weekend angler and at the same time offer each competitor an upward path for individual angler progression. For more information about American Bass Anglers, the Ram Truck Open Series, the American Fishing Tour or the American Couples Series, visit www.americanbassanglers.com.
American Bass Anglers, Inc. is supported by Ram Trucks, Triton Boats, Mercury Outboards, Carlisle Tires, GEICO, Berkley, Abu Garcia, T-H Marine, Livingston Lures, Best Western Hotels, Maui Jim, Power Pole, LiT Coolers, Simms, Garmin, and Divide-It. American Bass Anglers, Inc. can be contacted at (256) 232-0406 or by visiting americanbassanglers.com