News Feed
Michael Sopocy Wins Two Best Western Drawings
Michael Sopocy of Glenwood, IL was the winner of the two separate Best Western Travel card drawings this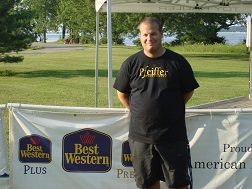 season in the Ohio division. Michael won the Best Western drawings at the August 16th-17th Ohio event at Lake Erie and the July 12th Ohio event at Mosquito Lake. He spent registration nights at the host Best Western Hotels at both events and was entered into the drawing to win a $100 travel card at each event. There is a drawing for a $100 Best Western travel card at every WBS event that has a Best Western host hotel. Anglers must bring their hotel receipts to registration to enter the drawing.
We would like to add hat Michael Sopocy also won the August 16th–17th event at Lake Erie in the co-angler division. Congratulations Michael!
Best Western Hotels and American Bass Anglers are offering an incentive reward program to ABA anglers for staying at Best Western Hotels starting May 1, 2014. At all Weekend Bass Series events (Divisional, Regional and Championship) and the AFT National Championship, drawings will be held at all events during the remainder of 2014. This program will include the American Couples Series National Championship.
To learn how you can win a Best Western Travel Card visit this link.
Anglers can also cash in on other contingency programs such as Triton Gold, Atlas Awards, Royal Purple Awards, and Mercury/Motorguide bonus money at Weekend Bass series events.
American Bass Anglers, Inc. is supported by Triton Boats, Mercury Outboards, Royal Purple Lubricants, Carlisle Tires, Odyssey Batteries, TH Marine, Livingston Lures, Best Western Hotels, Simms Clothing, Garmin, and North American Fishing Club. American Bass Anglers, Inc. can be contacted at (256) 232-0406 or visit AmericanBassAnglers.com.