News Feed
Scott Dean Wins Royal Purple Rewards Again
A couple of months ago we posted a story about Carlisle Tires pro staff member Scott Dean being the highest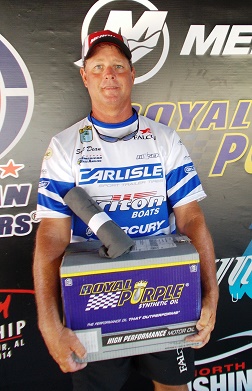 finisher in The Royal Purple Royal Treatment twice this year. Now, Scott Dean of Terrell, TX has done it for the third time this year. Dean finished fifth in the East Texas Division two-day event at Cedar Creek on July 12th & 13th, 2014. He was a Level II member of the Royal Treatment program at the time of this last finish and he was awarded a Royal Purple hat, a gallon of Royal Purple TCWIII, a quart of Royal Purple MaxGear gear lube, and a one year ABA membership. This finish brings Scott Dean's Weekend Bass Series winnings up to $33,387 since 2008.
Members of the Royal Purple Royal Treatment program are awarded additional prizes for being the highest finisher, in the top 10, at ABA Weekend Bass Series events. Depending on their membership level, anglers can be awarded Royal Purple products and even free entry into ABA events.
Entry to the Royal Purple Royal Treatment program is free to any ABA member that purchases at least $35 in Royal Purple products.
To enter: email receipts to evan@americanbassanglers.com or fax receipts to ABA at (256) 233-2295 to the attention of Evan Boutwell. Please include your name and ABA member number along with receipts.
More information on the Royal Purple Royal Treatment program can be found at this link.
ABA anglers can also cash in on other contingency programs such as Triton Gold, Atlas Awards, and Mercury/Motorguide bonus money.
American Bass Anglers, Inc. is supported by Triton Boats, Mercury Outboards, Royal Purple Lubricants, Carlisle Tires, Odyssey Batteries, TH Marine, Livingston Lures, Best Western Hotels, Simms Clothing, and North American Fishing Club. American Bass Anglers, Inc. can be contacted at (256) 232-0406 or by visiting americanbassanglers.com.