A Trip Down MBAA Memory Lane
By: George Kunkle
Early one day this spring I found myself - not surprisingly - in my boat barn diligently preparing for another tournament. Maybe it was because it was my birthday and thinking about how old I was, cabin fever, or just the wonderful Alabama evening, but I started to reminisce about all the years I had fished this upcoming tournament and its predecessor: the Military Bass Anglers Association (MBAA).
I was preparing for the 24th annual American Bass Anglers Military Team Bass Tournament being held this year out of Lakepoint State Park on beautiful Lake Eufaula. It is an annual event I never miss because it is the only time these days where my old Army buddy, Cliff, and I get together to fish. Cliff and I flew Blackhawks out of Ft. Bragg, North Carolina for many years, and, more importantly, he was and still is my one of my fishing mentors. We started fishing competitively with an MBAA affiliated club called the "Bragg Bass Busters". But, again, being old I am digressing, and this is certainly not an article about me. The point is that I began thinking about all the years and many unforgettable times fishing with American Bass Anglers and the Military Bass Anglers Association (as it was formerly known) and the opportunities these types of organizations give the up-and-coming and veteran fishermen alike.
I started to think about some of the guys I fished with, wondering what they thought about the "good ol' days". Was the fishing really better back then or did it have more to do with the fellowship and the pioneering of the sport? Fortunately, thanks to this great organization I continue to fish to this day. I still get to see most of my friends between this annual Military Team event and the American Fishing Tour (AFT) National Championship. So, over the next few weeks and months, I thought I might chase down some of the old gang and pick their brains for the most unforgettable times of fishing and fellowship. And for you folks like me (having done this for 30 years or better), you may get a kick out of this and, more importantly, spur some newer fishermen into seeing what could become their greatest experience and years of wonderful memories.
In 1975, the Military Bass Anglers Association was formed as an organization dedicated to providing bass anglers in the military with an opportunity to compete in tournaments with other military members. The Military Team Bass Fishing Tournament began in 1991 as a way to promote fishing and camaraderie among all branches of the military. Nine years later, in 2000, MBAA life member Morris Sheehan (retired from the U.S. Army) bought the organization and renamed it "American Bass Anglers Inc.", and relocated it to Athens, Alabama. My first introduction to the organization was in 1985 shortly before MBAA became known as "Bassing America". Fresh out of Fight School, I was walking into the Post Exchange (PX) of my first duty assignment on Ft. Bragg, and as I approached the entrance I noticed there was a boat parked outside with a couple of old grizzled fishermen sitting beside a card table selling raffle tickets for a chance on it. They were members of a MBAA district in North Carolina, directed by - now ABA Hall of Fame Member - Jim Foster. Having always loved fishing and just only being introduced to "bass fishing" while in school at Ft. Rucker, I thought, "That boat was just what I needed to enhance my newly discovered bass fishing prowess." The fishermen introduced themselves and told me about MBAA and the draw format where someone like me could fish out of $20,000 (big money back then) bass boat every weekend for just a little gas money as a non-boater/co-angler. "Sign me up!" I said. And little did I realize what a lifetime of memories and adventure would be ahead of me.
I showed up to my first tournament with two rods: one sporting an Ambassador 5000D, and a mighty Zebco 33 (not yet called "Classic") in one hand and a Plano one tray tackle box in the other ready to go! The boater I drew took me out and showed me the ropes of how this was to work, loaned me tackle, showed me what knots to tie, how to use electronics and generally gave me an on-the-water seminar. After weighing-in my single 12 inch fish, we all went to a campground (which was actually a local farmer's apple orchard) where the guys cooked, swapped fish tales, helped me get rigged for the next day, played a little cards and even drank a little whisky.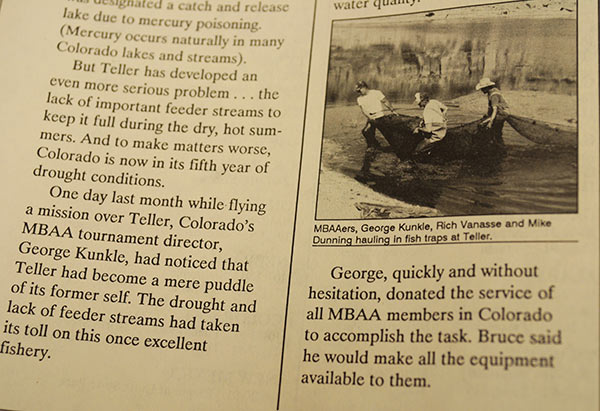 I see that in my mind these days like it just happened yesterday, and that experience is what hooked me in this sport forever. It wasn't just the fishing but the camaraderie I still have with this band of brothers to this day. It is now apparent to me if we want this sport to continue to flourish we must understand how important those first few outings are for that "new guy". I know several people who tried it and did not get the same experience as I and decided to never return to the sport again. In those days we would regularly have 70 to 100 fishermen at every event, and every boat had a co-angler which generally equated to fresh blood in the sport. At this level and with this organization (ABA/MBAA) it was not all about the money but the inseparable bonds formed with fellow soldiers who shared the passion of competitive fishing. Yet through this friendship, experience-sharing and support, several members became more enabled and well-equipped to become top performing pros in B.A.S.S., FLW and other professional tournament organizations/trails.
Okay. I promise. Enough of my experience. I leave for Eufaula this week and will track down the veterans of this tournament and associated organizations and hammer out some interesting pieces, history, and lessons learned over the years in the next few issues.