11/25/2015

Brian Bean Takes the Win at Lake DeGray
The third tournament of the 2016 Ram American Fishing Tour Division 47 season was held on Lake DeGray
November, 21st 2015. A balmy, almost warm, morning prior to take-off gave way to cooler air, scattered rain, and windy frontal conditions as anglers set out on Lake DeGray. Heavy rains during the week raised the water level more than 2 feet and brought muddy and stained water to the backs of many creeks. Baitfish moved throughout the week…and so did the bass. However, the bass still had their feedbags strapped on as plenty of fish were caught. 28 anglers brought in 111 bass for a total weight of 186.30 pounds with 17 five bass limits crossing the scales.
Brian Bean topped the field with a five fish limit, a total weight of 14.45 pounds. Brian threw a jig and spinnerbait to haul in his limit. Brian also caught the Big Bass of the day, weighing 4.13 pounds, on a jig.
11/23/2015

Cox Battles Cold and Wind for the Win
Weather was the story for the handful of anglers to brave the conditions and compete in the second Ram American Fishing
Tour 2016 season tournament held on Stockton Lake Saturday, November 21, 2015. The temperature was 34˚, with blowing snow and wind gusts up to 30 mph. Water temperature was in the mid 50's. When the sun came out about noon, the temperature rose to 40, but the wind continued to blow at 20-30 mph out of the northwest.
Local angler, Carl Cox, brought in a five fish limit that weighed 10.90 pounds to take the win. Second place went to Jeff Blackford of Rich Hill, MO who had a five fish limit weighing 10.39 pounds. Big Bass was a race, as two fish weighed 2.26, another one that went 2.27, but Joey Wyatt of Joplin, MO, weighed in the big one that was 2.28 pounds. Cash awards were first place $249, second place $94 and Big Bass $70.
11/17/2015

John Galbraith Takes Parker Strip Win
John Galbraith of Lake Havasu City, AZ topped the field of Division 63 anglers on the Colorado River's
Parker Strip November 14th, 2015. The river was very low, resulting in a slow bite for most anglers, until the 10:00 a.m. release of water from the Parker Dam. John culled through 15 keepers, sight fishing the crystal clear Colorado River water around grass beds. His go-to bait was a ½ oz brown River-2-Sea jig tipped with a Yamamoto double tail trailer. John said he was seeing the fish he was catching just pitching the jig to the bare spots in the grass. An excellent job in an otherwise tough event.
11/17/2015

Draskovic Takes First at Lake Wheeler
Ken Draskovic of Scottsboro, AL is one step closer to the Ram American Fishing Tour National Championship with a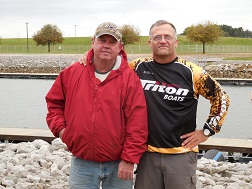 first place win in the Ram American Fishing Tour Alabama North division 29 bass tournament held on Lake Wheeler November 7th, 2015. Ken's limit weighed in at 13.01 pounds. Big Bass was awarded to David Dennis for catching a 5.59 pound largemouth
11/17/2015

Team Edgil Wins Alabama North Couples Tour Event on Neely Henry
Dennis and Marie Edgil bested an 11 team field on November 15th, 2015 at Lake Neely Henry in Gadsden, AL with
their five bass limit weighing 15.73 pounds.
All teams encountered challenging conditions at first light with temperatures near freezing. Alabama Power was running water through the dam causing the dirty water to flow down the lake most of the day. Crankbaits, plastics, and jigs were all credited by the competitors. The weights were very close for the rest of the pack, but Gary and Tina Woods landed 11.85 pounds for second place and 11.74 pounds was boated by Steve Hales and Stephanie Ensley for the final paycheck at third.
11/17/2015

Register and Win a Garmin 93SV or a Garmin Virb!
The all new Ram Truck Open Series that will offer a guaranteed minimum first place to boaters of $5,000 at one-day bass tournaments. Regiser by phone (256)232-0406 and online registration at
www.ramopenseries.com
.
Special Registration Promotions:
1. Package Registrations by Dec. 31, 2015 will each receive a free ABA membership and Freedom Pass.
2. Ram Truck Owners receive their first year membership free
3. Triton Boat Owners receive their first year membership free
4. Active Military receive their first year of membership free
5. Anglers registering for 2016 package entries by 11:59 pm on November 18, 2015 will be entered into a prize drawing to win one of two prizes:
• First Place Prize - Garmin 93 SV unit
• Second Place Prize - Garmin VIRB camera
11/12/2015

T-H Marine Secures Global Rights to Magnetic Marine's Gear Grabbar Product Line
Huntsville, AL – November 11, 2015 -- T-H Marine Supplies, Inc., of Huntsville, Alabama, and Magnetic Marine Products, LLC, of Ada, Michigan announce they have entered into an agreement that grants T-H Marine exclusive global rights to manufacture and distribute the patented Gear Grabbar line of magnetic tackle management systems. Financial terms of the deal were not disclosed.
T-H Marine's president and CEO, Jeff Huntley, said, "We are excited to announce our acquisition of the rights to these really cool magnetic lure holders. The Gear Grabbar product line has earned multiple awards over the past few years, including Best New Product accolades at the BASSMASTER Classic and ICAST shows for the Original Gear Grabbar and the 2012 ICAST Best In Show Award for Tackle Management for the Lure Hangar Kit. Those awards were not an accident, because these products are really fantastic for tackle management in any boat – from kayaks, to bass boats, to pontoon boats, to offshore fishing rigs. Jennifer and John Gesik invented and patented these products with a lot of attention to giving the fisherman quality products that serve a real purpose of making their lures and tools easier, faster, and safer to access. We look forward to bringing our expertise and distribution channels to these great products so that everyone can find them at their favorite fishing tackle and boating retailers"
11/11/2015

Ted Sprencel Lands First Place and Big Bass at Coleto Creek
Yes, it rains even in Texas! A damp day, to say the least, for the 20 Division 51 anglers who battled against the worst conditions seen in Texas, while fishing an Ram American Fishing Tour event in a long time. Despite less than ideal weather, Coleto Creek still gave up five fish limits to more than half of the field.

Ted Sprencel brought his new boat to the lake for the first time. Obviously, his electronics worked well as they helped him produce a five fish stringer weighing in at 17.62 lbs, anchored by his big bass (winning weight) of 4.62 pounds, narrowly beating out Doug Weissinger's largest fish weighing in at 4.59 pounds. Ted earned himself a nice stack of cash, $543 for first place and the Big Bass pot of $200.
11/10/2015

Whitaker Claims Ram American Fishing Tour Win on Lake Norman
Charles A. Whitaker won the Ram American Fishing Tour division 14 tournament on Lake Norman in Mooresville, NC held on November 8, 2015. Charles Whitaker of Troutman, NC is one step closer to the Ram American Fishing Tour National Championship with a first place win of five fish weighing 12.49 pounds. Second place went to Paul Tsiolkas of Lexington, NC with five bass weighing 8.81 pounds. Third place went to John Miller of Statesville, NC with five bass weighing in at 7.75 pounds.
At launch time the temperatures were in the lower 50's with cloudy skies, and Northeast winds at 10 to 15 mph. The day's conditions continued with mostly cloudy skies, and temperatures topping out in the upper 50's. Water temperatures were in the mid 60's to low 70's.
11/10/2015

Victoria and Dale Goff Land Clarks Hill Victory
Twenty-one teams showed up for the November 7, 2015 South Carolina American Couples Series tournament on
Clarks Hill. The weather cooperated nicely as the forecasted all-day rain did not develop. There were only brief periods of rain with mild temperatures. Rain earlier in the week brought the lake level up several feet.
The changing conditions did not deter Victoria and Dale Goff from landing a solid five fish limit at 11.8 pounds. Their first place sack came down lake on points from 15 to 25 feet of water with Zoom Baby Brush Hogs. Victoria's three pounder was the key to their success.