12/11/2017

The American Couples Series National Championship Returns to Lake Hartwell in 2018

ATHENS, Ala. – The 2018 American Couples Series National Championship, presented by American Bass Anglers, will be hosted by the Anderson Convention & Visitors Bureau and will take place Sept. 16-21, 2018 at Green Pond Landing and Event Center on Lake Hartwell in Anderson, SC. The onsite registration and dinner will take place on Wednesday, Sept. 19, 2018.
12/11/2017

D66 Heads to Coffey County State Fishing Lake
Division 66 will hold the 2nd tournament of the 2018 season at Coffey County State Fishing Lake on Sunday 17 Dec 2017. Registration will start at 6:30 a.m. the morning meeting and draw will start at 7:15 a.m. The registration, morning meeting and draw will take place at the entrance gate to the boat launch area as the lake will not open until sunrise approximately 7:30 a.m. We will check-in and launch as soon as the last boat is in the water. Weigh-in time will be announced at the morning meeting. Entry Fee is $70, optional Big Bass pot is $10. American Bass Anglers membership $35. This will be a Bass Pass tournament. We will weigh-in 5 bass 15 inches or over. Boaters are required to supply a backseat for their non-boaters.
12/10/2017

Okeechobee Anglers Get Early Christmas Wish
Athens, AL. Anglers fishing the Ram Truck Open Series Area Championship on Lake Okeechobee next weekend will fish the highest water on Okeechobee in Ten Years.
The 8-10" of rain from Hurricanes this summer brought the lake up to 16.3 feet above sea level and today stands at 15.90 (source http://w3.saj.usace.army.mil/h2o/currentLL.shtml ). The local anglers know this has a big impact on fish movement and the east shore is a hot area with high water.
12/07/2017

Florida Central and Florida South Head to Lake Okeechobee for Area 5 Championship
Athens, Ala. - The Ram Truck Open Series Florida Central Division and Florida South Division Area 5 Championship will be held December 16th -17th on Lake Okeechobee. The First-Place Boater for this event is guaranteed a minimum of $10,000, and the First-Place Co-Angler is guaranteed a minimum of $5,000. Also, the top 20 boaters and the top 20 co anglers from this two-day event will qualify for the Ray Scott Championship on the Red River in April 2018.
12/06/2017

James and Heather Babb win on Lake Mitchell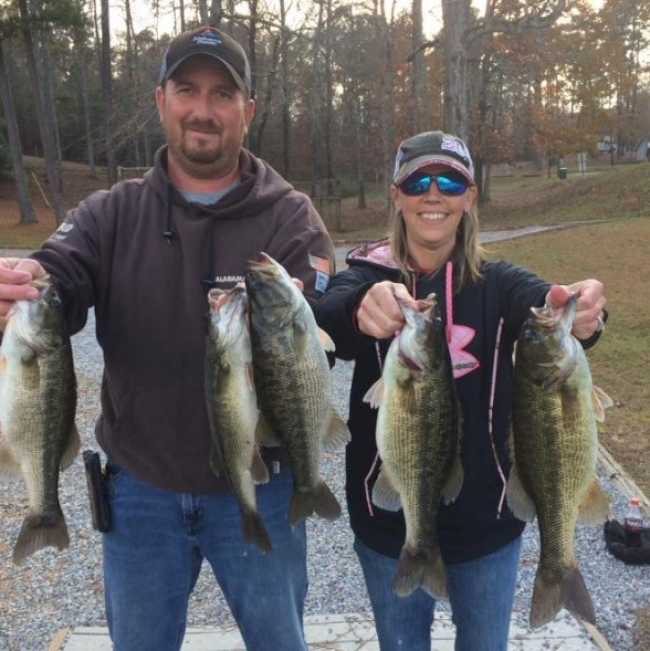 ATHENS, Ala. –James and Heather Babb won the American Couples Series, operated by American Bass Anglers, Central Alabama Division 1 tournament, held December 2, 2017, on Lake Mitchell.

Running out of Higgin's Ferry in Clanton, the team caught 5 bass weighing 11.87 pounds. For the victory, they earned a check for $630.00. The Babb's caught their fish on spinner baits and shaky heads.
12/04/2017

Ashley With a Solid Win on Lake Greenwood
Athens, Ala. Danny Ashley of Donalds, SC won the Ram American Fishing Tour, presented by American Bass Anglers, South Carolina Division 96 1-day qualifier held December 3, 2017 on Lake Greenwood running out of Greenwood State Park near Ninety Six, SC.
12/04/2017

Doug Davis Jr. Takes the win on Seminole
Doug Davis Jr from Chipley, FL is one step closer to the Ram American Fishing Tour National Championship with a first place win in the Ram American Fishing Tour Seminole Division 114 bass tournament held on Lake Seminole December 3, 2017. Doug's limit weighed in at 14.38 pounds. Big Bass was awarded to Steve Raines for catching a 6.65 pound largemouth bass.
12/01/2017

Web Version
November/December 2017 ABA Magazine
All ABA Members have access to the ABA Magazine through the Members Only Area. This issue is available now to anyone.
11/30/2017

Jason Burroughs wins on Lake Russell
Twenty-eight anglers fished the D25 AFT tournament at Lake Russell. The day started out with temps in the low 50's and increased to just above 60 for the 3 pm weigh in. There were 105 fish weighed in and all were released alive, thanks to all the anglers for taking care of their fish so that they could be released and caught another day.
11/30/2017

Ford Wins on Weiss Lake
Division 88 of the American Fishing Tour held its latest tournament on Weiss Lake November 18, 2017. Weiss Lake (pronounced "Wice") is an Alabama Power impoundment with approximately 30,000 acres. Known in the 80s as the crappie capital of the world is also a tremendous Bass Fishing Lake. It's no surprise that Rhonda Ford of Cave Springs, GA brought in a limit of bass weighing 17.31 anchored by a big bass weighing 7.06 pounds.
The anglers had perfect weather for a bass tournament with overcast skies and temps in the mid-60s with 10 mph winds from the southwest.