8/26/2016

Toth Wins on Savannah River
Joe Toth of Richmondhill, Georgia is one step closer to the ABA National Championship with a first place win on the AFT D94 event held on July 30th on the Savannah River. Joe came in with a total weight of 9.67 pounds. Joe earned $294 for his first place win.
8/24/2016

Garlen and Ford Win on Lake Guntersville
Rhonda Ford of Rome, Georgia and Mike Garlen of Athens, Alabama won the final Alabama North Couples Trail event held on Lake Guntersville this past weekend, on August 20th. They landed 13.97 pounds of fish with Mike winning men's Big Bass pot with a 4.63 pound largemouth.
8/24/2016

Luka Wins D10 Divisional Championship
Mike Luka of East Stroudsburg, Pennsylvannia won the D10 Championship held on Hopatcong and Greenwood lakes, August 20th and 21st. Luka's weight for both days came in at 27.86 pounds. For the victory Mike collected a check for $812. He also collected an additional $140 for the Big Bass of the event weighing 4.98 pounds. Luka was pitching soft plastics to docks.
8/24/2016

Theis Wins on Tar River
Jason Theis of Hubert, North Carolina took the win for the AFT D15 event held on August 13th on Tar River. Jason caught five bass weighing 12.35 pounds. Jason took home a check for $432 for first place. Bass Boat Instant Shine for Capt. Gary's, and $84 for the TWT 1st place, all totaling $516.
8/23/2016

$10,000 First Place On the Line at Lake Wylie
ATHENS, Ala. – The Ram Truck Open series will hold an Area Championship on August 27th & 28th on Lake Wylie for North and South Carolina Anglers.
The competitors will launch from Buster Boyd Landing in Lake Wylie, South Carolina. Anglers may begin fishing at 6:30 a.m. or safe light on days one and two. The weigh in will begin at 2:30 p.m. each day. Registration begins at 4:00 p.m. on Friday, August 26th at Buster Boyd Landing.
8/22/2016

Scott Wins on Sacandaga Lake
Robert D. Scott of Rutland, Vermont won the American Bass Anglers Ram Truck Open Series NE tournament, held August 20th on Sacandaga Lake.
8/22/2016

Poland Wins on Okeechobee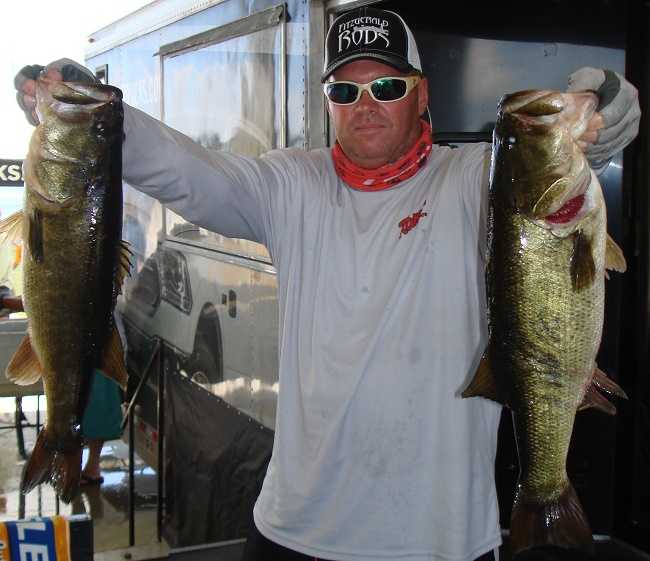 Steve Poland of Port St. Lucie, Florida won the American Bass Anglers Ram Truck Open Series Florida South tournament, held August 20th on the Lake Okeechobee.
8/22/2016

New "Big Bass" Record for AFT D44
During an AFT D44 event on Lake Waconia located in the west metro area of the Twin Cities in early August, Bob Schill of Ramsey, Minnesota caught, weighted, and released a record breaking largemouth weighing 6.91 pounds.
8/22/2016

James Takes Win at D39 Championship
Scott James of Wilmington, Illinois won the AFT D39 two day Divisional Championship held on Mississippi Pool 13 on August 20th and 21st. High water, fast current, and muddy water slowed a normally great bass catching river, but the conditions didn't slow Scott who caught three fish each day with a total weight of 13.25 pounds.